Mecasolar is supplying 2 axis solar trackers to a 108kWp solar plant in Prahova, Romania.
MECASOLAR supplies 108 kWp in 2 axis solar trackers to a new project in Prahova, in central Romania and 100 km of the capital, Bucharest.

The PV plant, which is expected to have an annual output of 183.000 Kwh and save 90 tons of CO2-equivalent emissions, features 8 13.15 kWp 2-Axis trackers and more than 432 modules.
According to MECASOLAR sources, the 2-Axis solar trackers are capable of increasing photovoltaic solar energy production by more than 35%, when compared to a fixed installation. This maximizes profits by reducing the investment in solar panels.
Previously, MECASOLAR had supplied 1MW in 2 axis trackers to a PV project in Miroslava.
Featured Product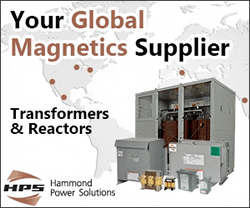 HPS is the largest manufacturer of dry-type transformers in North America. We engineer and manufacture a wide range of standard and custom transformers that are exported globally in electrical equipment and systems. We support solid industries such as oil and gas, mining, steel, waste and water treatment, and wind power generation. HPS leads the industry in these markets through its technical design strength, breadth of product, and manufacturing capabilities, making HPS a stronger company both fundamentally and financially.