Mecasolar is supplying 2 axis solar trackers to a 108kWp solar plant in Prahova, Romania.
MECASOLAR supplies 108 kWp in 2 axis solar trackers to a new project in Prahova, in central Romania and 100 km of the capital, Bucharest.

The PV plant, which is expected to have an annual output of 183.000 Kwh and save 90 tons of CO2-equivalent emissions, features 8 13.15 kWp 2-Axis trackers and more than 432 modules.
According to MECASOLAR sources, the 2-Axis solar trackers are capable of increasing photovoltaic solar energy production by more than 35%, when compared to a fixed installation. This maximizes profits by reducing the investment in solar panels.
Previously, MECASOLAR had supplied 1MW in 2 axis trackers to a PV project in Miroslava.
Featured Product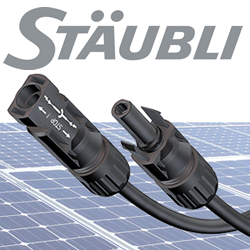 ​Stäubli Electrical Connectors are used on more than 300 GW, over 50% of the PV capacity worldwide. The MC4 family of UL and TUV listed products include connectors, in-line fuses, branch connectors, cable assembly and more.