Need answers to home solar?
LOS ANGELES, July 28, 2015

American Solar Direct (ASD), a leading residential solar energy provider in California, announced another milestone in enhancing the customer experience with the launch of its new informative and interactive website.
With features like a personal carbon footprint calculator, a customer portal to track solar power production and content that demonstrates both the benefits and simplicity of harnessing the power of the sun, American Solar Direct's enhanced website provides cost and energy-conscious homeowners a one-stop informational online resource.
"American Solar Direct's well-regarded reputation has been built on delivering a higher level of customer service, as well as providing the latest and highest-quality solar energy solutions and products," said Kevin Bauer, President of American Solar Direct. "We recognize many homeowners want to conduct their own research online. Our new website empowers the homeowner with the answers they deserve and perhaps other details they may not have considered."
As the new website highlights, ASD has a team of experts that assess a home's potential for solar energy, develops a custom solar plan, conducts a thorough inspection, secures permits and approvals, then installs and turns on the solar power system. ASD customers can then log onto the "solar portal" to track the energy produced by their solar power system.
"We know customers get excited when they realize the production we guarantee their system will produce is actually occurring. It reaffirms they made the right decision," Bauer said.
Online information is only one facet of American Solar Direct's customer-focused service. Highly trained and informative sales associates are available to meet with homeowners at their residence to explain the simple and affordable solar power solution to begin enjoying the financial and environmental benefits of a home system.
The new website is the latest in a series of customer-oriented service enhancements. Earlier this year, the company announced the American Solar Direct Solar Ownership Program Powered by Mosaic, providing ASD customers an affordable option to own a home solar system with little or no money down. ASD also provides an industry-leading energy production guarantee and a long-term warranty and maintenance agreement.
About American Solar Direct
American Solar Direct is a full-service solar provider offering California homeowners solar design, permitting, installation, and maintenance services. Through its Solar Made Simple program, American Solar Direct offers homeowners the ability to generate their own clean, renewable power and take control of their electricity prices. American Solar Direct was declared 17th Fastest Growing Private Company in 2014 by INC. magazine, named one of the top five residential solar installers to watch in 2013 by GTM Research and was among the top 5 purely residential solar installers in the U.S., according to a Solar Power World survey. The company recently earned national Company of the Year honors in the Energy category by the American Business Awards and maintains an A+ rating with the Better Business Bureau (BBB).
Homeowners interested in solar power may contact ASD at 855-SOLAR55 (or 855-765-2755) to get started with a free, no-obligation in-home analysis. Connect with American Solar Direct on Facebook and follow us on Twitter, @AmerSolarDirect. www.americansolardirect.com
For more information, contact media@americansolardirect.com.
Featured Product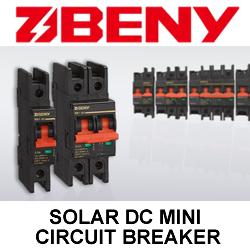 The BB1-63 modular miniature circuit-breakers can be used in solar DC circuits up to 1200 VDC (4-poles execution). Application in solar DC circuits, battery energy storage systems and UPS. Arc flash barrier design keeps solar equipment more safe and reliable. For DC circuit over-current protection.