More comprehensive package tenders set to drive industry collaboration
28th July 2015, Cowes - Evolving procurement processes for UK Round 3 offshore wind farms will require a greater number of work streams, personnel with new and differing skills, and the ability to provide a larger suite of services. That is at least according to class leading offshore energy support firm, Seacat Services.

As project developers look to manage their cost bases, offshore wind vessel procurement packages will, in all likelihood, demand specialist expertise from their operators that include a range of services encompassing not only offshore crew transfer, but also marine coordination, port logistics, and technical personnel.
In order to serve these new and more extensive requirements, the offshore vessel service industry will need to consider news ways of working together. Over time, increased collaboration between support operators in sharing not only ongoing specific experiences while working on site, but also tasks and operations, will promote fleet access best practice and create future cost savings.
With construction for UK offshore wind set to plateau until late 2016 when the first Round 3 projects begin the build-out phase, the industry has an opportunity to take stock and consolidate the lessons of the last 10 years.
"Offshore wind procurement for vessels operations has come a long way," said Ian Baylis, Managing Director, Seacat Services
"In the early days, procurement packages were much smaller and more disparate. Crew transfer, personnel, ports and logistics were all distinct and separate areas. As the offshore wind industry has evolved, however, developers are taking a more holistic look at how these services are procured."
"For vessel services operators like ourselves, this means not only assessing new skills, but also, where appropriate, looking at developing a positive working relationship with other complimentary operators, ensuring that there are opportunities to partner throughout the supply chain. Over time, this will both enable the offshore wind industry to streamline its procurement processes, and lead to long term cost savings."
Seacat Services operates an expanding fleet of 9 vessels from its base in Cowes on the Isle of Wight ranging from 21m to 26m.
Featured Product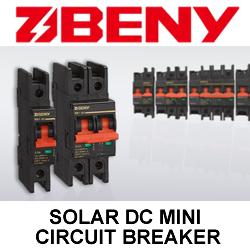 The BB1-63 modular miniature circuit-breakers can be used in solar DC circuits up to 1200 VDC (4-poles execution). Application in solar DC circuits, battery energy storage systems and UPS. Arc flash barrier design keeps solar equipment more safe and reliable. For DC circuit over-current protection.