Canadian Solar is proud to offer three-phase inverters as part of our expanded product portfolio.
GUELPH, Ontario, July 30, 2015 -- Canadian Solar Inc. (the "Company", or "Canadian Solar") (NASDAQ: CSIQ), one of the world's largest solar power companies, today announced that the company is the supplier of 1.25 MW AC of 28 kW three-phase inverters to Renewable Solar Energy in central California. These inverters will be used in their three ground mount PV projects in Netto Farms, Tos Farms, and Summer Hill Dairy. Canadian Solar is also the supplier of 1.5 MW DC of Canadian Solar's CS6X-305P solar panels. By offering inverters and PV panels together as part of a total system solution, this bundling allows Canadian Solar to further enhance their customer support services.

Dusty Howze, President of Renewable Solar Energy, commented, "Canadian Solar has always done a great job supplying us with solar panels. Their team has always made sure we had the materials we needed on time. We were definitely interested in their new commercial, three-phase inverters when they were introduced to us earlier this year."
Dr. Shawn Qu, Chairman and Chief Executive Officer of Canadian Solar, commented, "As North America's largest solar manufacturer, Canadian Solar is proud to offer three-phase inverters as part of our expanded product portfolio. We are pleased that Renewable Solar Energy has chosen to include our company's inverters and modules in three Central Valley locations in California, and we look forward to future collaboration with them."
About Canadian Solar Inc.
Founded in 2001 in Canada, Canadian Solar is one of the world's largest and foremost solar power companies. As a leading manufacturer of solar photovoltaic modules and a provider of solar energy solutions, Canadian Solar has a geographically diversified pipeline of utility-scale power projects. In the past 14 years, Canadian Solar has successfully deployed over 10 GW of premium quality modules in over 70 countries around the world. Furthermore, Canadian Solar is one of the most bankable companies in the world, having been publically listed on NASDAQ since 2006. For additional information about the company, follow Canadian Solar on Facebook, Twitter, LinkedIn, or on the website.
Featured Product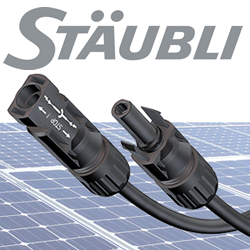 ​Stäubli Electrical Connectors are used on more than 300 GW, over 50% of the PV capacity worldwide. The MC4 family of UL and TUV listed products include connectors, in-line fuses, branch connectors, cable assembly and more.