Modules Pass New More Stringent Testing
Tempe, Ariz., July 29, 2015- TÜV Rheinland, a globally recognized independent testing, inspection, and certification company, announced today that Prism Solar Technologies is the first photovoltaic (PV) module manufacturer to be certified to the Qualification Plus standard by TÜV Rheinland PTL. Prism Solar produces bifacial solar modules designed to absorb reflected (albedo) light in order to produce more kilowatt hours than a standard, one-sided polycrystalline PV module.

IEC 61215 and IEC 61730 are the current design qualification standards for PV modules. However, because technologies are constantly improving and because updating standards traditionally lags far behind the pace of innovation, Qualification Plus (Q+) testing has been developed to go above and beyond current standards. 10 years or more of data on PV modules hewing to the prior 'block standards show that successively improved standards lead to greatly decreased failure rates in next-generation modules. Qualification Plus standards stress-test PV modules well beyond current requirements, to mimic or surpass natural conditions those products would be exposed to in the field. By addressing failures being seen in the field today, as well as aligning with contemplated (i.e. possible upcoming) test standards, Qualification Plus certification can help to re-assure operators and investors that approved modules will be in compliance for years, if not decades, to come.
Prism Solar submitted modules to be tested in a variety of conditions at TÜV Rheinland PTL in Tempe, Arizona. All the modules went through visual inspection and performance tests as well insulation and 'wet leakage tests before being divided into separate groups to go through accelerated environmental conditioning. Once grouped, some modules were subjected to thermal cycling tests—500 cycles under Q+ testing, as compared to only 200 under IEC 61215—others went through a battery of tests, including load tests and humidity/freeze cycles, while still others were inspected for 'hot spots which can occur when one cell in a series is shaded and the power output of the unshaded cells overwhelms the shaded cell. After the various groups went through their disparate tests, all were subjected to a final series of stabilization and performance tests.
Qualification Plus Module Testing Schedule
"Today, module manufacturers have to take extra steps with product safety testing, not only to be considered for selection on large-scale projects, but really to maintain a competitive edge. Its no longer enough to have IEC 61215: everyone has that. Qualification Plus is rapidly becoming the new benchmark," said Bill Shisler, Regional Business Field Manager for the Solar & Fuel Cells Division of TÜV Rheinland PTL.
After hundreds of hours, Prism Solar modules passed the Q+ testing; their products may now carry the Qualification Plus TUVR mark, indicating compliance and certification to the latest in industry-accepted standards.
"The Qualification Plus certification is a great accomplishment for us. Ive always maintained that we produce a superior module, one that can stand up to almost any conditions while also being functional and beautiful; now our customers and the end users can be confident theyre getting an even greater value for their investment," said Dr. Randy Stewart, CEO of Prism Solar.
For more information on TÜV Rheinlands solar power testing capabilities, please visit http://www.tuv.com/us/solar.
About TÜV Rheinland
Founded in 1872, TÜV Rheinland is a global leader in independent testing, inspection, and certification services, ensuring quality, efficiency and safety for people, the environment and technology in nearly all aspects of life. The company maintains presence in 69 countries, employs 19,300 people and has an annual revenue of more than $1.9 billion (€1.7 billion). TÜV Rheinland inspects technical equipment, products and services, oversees projects and helps to shape processes for a wide variety of companies through its worldwide network of approved labs, testing facilities and education centers. Since 2006, the company has been a member of the United Nations Global Compact to promote sustainability and combat corruption. For more information, visit www.tuv.com/us.
About Prism Solar Technologies
Prism Solar Technologies was founded in 2005 to improve solar system designs and optimize the energy harvesting properties of new solar installations. The company is a recognized leader in both the fabrication and performance of bifacial solar modules and systems, utilizing glass-on-glass module design for improved structural overhead applications. The company has pioneered bifacial modeling techniques used for the optimization and design of Commercial White Roof installations. The Prism Solar Energy Roof System has been recognized by the US Internal Revenue Service as a design that leads to additional kWhs of energy harvested by utilizing the white roof as part of the energy property in Commercial installations. The company operates a Manufacturing operation in Highland, NY, and a Research, Development & Engineering facility located in Tucson, AZ. For more information, visit www.prismsolar.com.
Featured Product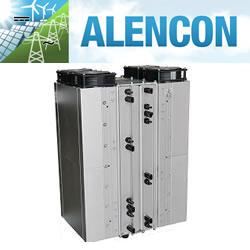 Alencon Systems is the premier manufacturer of high power, high voltage DC:DC optimizers for alternative energy applications including solar, battery energy storage, Microgrids, Fuel Cells and Electric Vehicle charging. Alencon's DC:DC converter offerings include the SPOT, BOSS and CUBE series DC:DC converters. The SPOT is a modular, uni-directional DC:DC solution ideal for solar applications. The BOSS is a modular, bi-directional unit for use with battery energy storage. The CUBE is a monolithic DC:DC converter which is available in both uni-directional and bi-directional modalities. Pictured above, is the Alencon SPOT.