The New Innovative Gas-Fired Thermal Power Plant in Kiel with over 90 Percent Efficiency Will Set New Standards with Respect to Flexibility, Efficiency and Environmental Sustainability; Contract Signing on August 3 ----The Order for 20 Jenbacher J920 Flextra Gas Engines with an Output of 190 MW Represents the Largest Sale in the Worldwide Jenbacher Company History
KIEL, Germany--Together with general contractor Kraftanlagen München (KAM), GE (NYSE: GE) is supporting the municipal utility Stadtwerke Kiel in the construction of a modern gas-fired thermal power plant, representing a new, extremely flexible generation of energy production plants.

The project, which was kicked off today with the contract signing, comprises 20 units of GEs most powerful gas engine and is to date the largest order for the GE gas engines product line in Jenbach. As a nationwide unique project, the new plant already is considered a model, setting new standards with respect to flexibility, efficiency and environmental sustainability.
The 20 Jenbacher J920 FleXtra gas engines form the heart of the plant, supplying a total output of 190 megawatts (MW) of electrical and 192 MW of thermal energy, which will be fed into the electrical and district heating network, thus contributing to grid stability. The total efficiency of the equipment from GE is greater than 90 percent; electrical efficiency is 45 percent. Compared with the previous coal-fired power plant, CO2 emissions are reduced from 1.8 million tons to approx. 540,000 tons.
"Kraftanlagen München was quick in selecting the right concept and has found the best-suited partner for this project with GE. The new gas-fired thermal power plant in Kiel is a groundbreaking example for the successful realization of the energy transition plan by employing highly efficient combined heat and power generation. We are happy to implement this large-scale project using GEs Jenbacher gas engines," stated Gerrit Koll, business unit leader, energy- and power plant technology at KAM.
"With our flexible and highly efficient gas engine technology, were proud to make a decisive contribution to the pioneering project from Stadtwerke Kiel and Kraftanlagen München. Versatility in the electricity exchange paired with inexpensive costs for heat generation will be the way forward in Kiel," said Oliver Klitzke, Executive Operations GE Germany. "Cogeneration systems as distributed and load-oriented applications form the ideal bridge to the energy system of the future, allowing us security in energy supply, the highest level of efficiency and therefore minimal primary energy consumption."
The greatest possible flexibility was a primary requirement of the new Stadtwerke Kiel plant. Due to the high proportion of wind-generated electricity in the regional grid, the power plant has to be able to feed full power into the local electrical grid within a short period in order to offset the volatility of the wind level, thus ensuring stability of the grid. The efficient GE engines demonstrate that they are the ideal bridge technology and application to implement the energy transition plan in Germany, with the goal of generating 80 percent of electricity from renewable and therefore, volatile energy sources by 2050.
About the Kraftanlagen Group
The Kraftanlagen Group stands for efficient power plant engineering. As a multi-faceted servicer provider to industry and the utility business, we employ state-of-the-art processes and technologies everywhere in Europe. Industry, municipal utilities and energy suppliers rely on us as a single-source provider: installation engineering from concept definition and planning, project planning, construction, through plant commissioning, service and maintenance, and finally, dismantling und disposal.
With its affiliates and joint ventures at numerous locations, the Kraftanlagen Group with more than 2,800 employees offers an extensive service network. Working closely with its customers, the Group manages both large-scale projects as general contractor as well as individual projects in the following product areas: Energy and power plant technology, distributed energy supply, underground pipeline construction, nuclear engineering, industrial facilities and installation, utility services, engineering and consulting, manufacturing and welding technology.
About GE
GE (NYSE:GE) imagines things others dont, builds things others cant and delivers outcomes that make the world work better. GE brings together the physical and digital worlds in ways no other company can. In its labs and factories and on the ground with customers, GE is inventing the next industrial era to move, power, build and cure the world. www.ge.com
About GE Power & Water
GE Power & Water provides customers with a broad array of power generation, energy delivery and water process technologies to solve their challenges locally. Power & Water works in all areas of the energy industry including renewable resources such as wind and solar, biogas and alternative fuels; and coal, oil, natural gas and nuclear energy. The business also develops advanced technologies to help solve the worlds most complex challenges related to water availability and quality. Power & Waters six business units include Distributed Power, Nuclear Energy, Power Generation Products, Power Generation Services, Renewable Energy and Water & Process Technologies. Headquartered in Schenectady, N.Y., Power & Water is GEs largest industrial business.
Follow GE Power & Water on Twitter @GE_PowerWater and on LinkedIn. To hear the latest news and conversations for Distributed Power, use the Twitter hashtag #DistributedPower.
Featured Product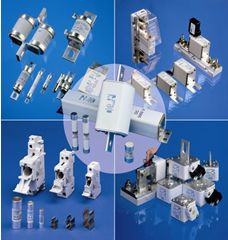 SIBA Fuses: your trusted source for all your circuit protection applications, from solar power to wind power. We are the world leaders in these applications and the most trusted name for your circuit protection needs. We have been working for over 70 years in semiconductor fuses, including ULTRA RAPID®, medium, and high voltage, standard European, miniatures, electronic fuses, and a wide range of DC rated fuses (24 VDC - 5000 VDC) for all types applications. We work with medium and high voltage fuses for protection of transformers, including submersibles, motors, medium and high voltage switchgear, compact substations, cable feeders, and high voltage capacitor circuits. New: Full line of PV UL Listed fuses and fuse holders. Contact us today for more information on our products and services.