Black Hills Energys electric customers in Colorado will be able to purchase individual panels in the 120 kW shared solar PV array, developed and operated by CEC, and receive direct credit on their Black Hills Energy electric bill for the power produced.
LOUISVILLE, COLO. (August 4, 2015) - Clean Energy Collective, the worlds leading community solar provider, and southern Colorado electric utility Black Hills Energy today announced their plans to bring the first roofless community solar facility to Pueblo, Colo. and the surrounding area.

Black Hills Energys electric customers in Colorado will be able to purchase individual panels in the 120 kW shared solar PV array, developed and operated by CEC, and receive direct credit on their Black Hills Energy electric bill for the power produced. In addition to the financial and environmental benefits to the community, a portion of the array has been earmarked at a significantly reduced rate for Posada, an income-based housing program in Pueblo.
Posadas executive director, Anne Stattelman, conveyed her appreciation for the roofless solar facilitys role in benefitting Pueblo's homeless families. "Posada is happy to partner with Black Hills Energy, the Clean Energy Collective and local contractors on this project. The cost savings will allow Posada to shelter additional homeless families and will give the agency a tool in conserving energy and planning its energy future."
The array will be the first roofless community solar project for Black Hills Energy. It supports the utilitys much broader efforts to introduce more choices in renewable energy for its 95,000 Colorado electric customers. Black Hills chose CECs model because it provides a turn-key solution that has been well vetted with several utilities in Colorado and other states, including cooperative, municipal, and other investor-owned utilities.
"Other communities have successfully utilized these types of facilities to extend the economic benefits of solar energy to community members who would not typically be in a position to take advantage of them," said Christopher Burke, vice-president of Black Hills Energys Colorado electric utility operations. "We are very pleased to partner with both Clean Energy Collective and Posada to bring similar benefits to the Pueblo community."
As part of the agreement, Black Hills Energy required that a portion of the energy produced by the array be made available to low-income residents within its service territory. To this end, CEC and Black Hills selected Posada, the Pueblo-based organization that provides housing and supportive services to homeless individuals and families in Pueblo County, as a key partner in providing these benefits to qualifying Pueblo residents due to its expertise in managing housing initiatives on behalf of this key demographic. Posada will purchase 12 kW, about 10 percent, of the array from CEC at a significant discount, which will benefit participants in Posadas program.
"We are excited to help Black Hills Energy offer its customers a solar energy option," said Clean Energy Collectives founder and CEO Paul Spencer. "We are equally excited that Posadas participation will help individuals and families even more."
Space in this 120 kW facility is extremely limited. For more information, call Clean Energy Collective at (800) 646-0323, visit BHERooflessSolar.com, or call Black Hills Energy at (719) 546-6472.
About Clean Energy Collective (CEC)
A solar tech start-up in 2009, Clean Energy Collective (CEC) has grown to become the worlds leading developer of Roofless Community Solar solutions. CEC pioneered the model of delivering clean power-generation through medium-scale solar PV facilities accessible to all utility customers. Since establishing the first community-owned solar array in the country in 2010 near El Jebel, Colorado, CEC has built or has under development more than 90 Roofless Community Solar projects with 21 utility partners across 10 states, representing 100 MW of community solar capacity. www.easycleanenergy.com
About Black Hills Energy
Black Hills Energy serves 95,000 electric customers in 21 southeastern Colorado communities. Black Hills Energy is a subsidiary of Black Hills Corp. (NYSE: BKH), a growth-oriented, vertically-integrated energy company with a tradition of improving life with energy and a vision to be the energy partner of choice. Based in Rapid City, S.D., the company serves 792,000 natural gas and electric utility customers in Colorado, Iowa, Kansas, Montana, Nebraska, South Dakota and Wyoming. The company also generates wholesale electricity and produces natural gas, oil and coal. Black Hills Corp.s more than 2,000 employees form partnerships and produce positive results for our customers, communities and shareholders. More information is available at www.blackhillscorp.com.
About Posada
Incorporated in 1987 as a 501 C (3) Nonprofit agency, Posada provides shelter, housing and supportive services to Pueblo's homeless population. The agency is seen as the "gateway" agency for the homeless in the community and coordinates the local Continuum of Care Process. Over 140 households are sheltered or housed nightly through Posada's efforts and more than 100 people walk into the agency on a daily basis. Approximately 4,000 unduplicated men, women and children are assisted annually as well as 300 homeless unaccompanied youth. Posada seeks to provide self-sufficiency through reintegration into the community. For more information: http://www.posadapueblo.org/
Featured Product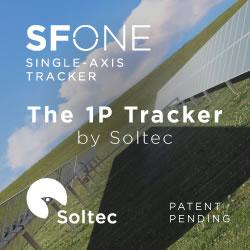 SFOne is the 1P single-axis tracker by Soltec. This tracker combines the mechanical simplicity with the extraordinary expertise of Soltec for more than 18 years. Specially designed for larger 72 an 78 cell modules, this tracker is self-powered thanks to its dedicated module, which results into a lower cost-operational power supply. The SFOne has a 5% less piles than standard competitor, what reduces a 75% the labor time.