America's #1 solar power provider teams with leading Mexico solar developer to expand to one of the most promising solar markets in the world
SAN MATEO, Calif., and MEXICO CITY, Aug. 5, 2015 -- SolarCity (NASDAQ: SCTY) and ILIOSSON, S.A. de C.V. today announced that they have entered into a definitive agreement for SolarCity to acquire ILIOSS, one of the largest commercial and industrial solar developers in Mexico. Upon close of the acquisition, ILIOSS will operate as an independent business unit of SolarCity. ILIOSS co-founder and Chairman David Arelle and co-founder and Chief Operating Officer Manuel Vegara will lead the new business unit as President and General Manager, respectively. Prior to founding ILIOSS in 2012, Mr. Arelle oversaw the development and construction of thousands of homes and apartments across Mexico, first as a private homebuilder and later as a part of a joint venture with Pulte Homes.

Mexico's combination of high electricity rates, favorable solar economics and massive solar resources makes it one of the most promising solar markets in the world. As a combined entity, SolarCity and ILIOSS expect to be able to allow many commercial and industrial customers in Mexico to pay less for solar power than they currently pay for electricity. GTM Research expects commercial and industrial solar deployment in Mexico to increase more than 1,000 percent between 2014 and 2020, with more than 1,000 megawatts installed in that timeframe.
Marco Krapels, SolarCity Senior Vice President of Strategy and Global Expansion, initiated the acquisition. The transaction is expected to be completed in August 2015, subject to customary closing conditions.
About SolarCity
SolarCity (NASDAQ: SCTY) provides clean energy. The company has disrupted the century-old energy industry by providing renewable electricity directly to homeowners, businesses and government organizations for less than they spend on utility bills. SolarCity gives customers control of their energy costs to protect them from rising rates. The company makes solar energy easy by taking care of everything from design and permitting to monitoring and maintenance. Visit the company online at www.solarcity.com and follow the company on Facebook & Twitter.
Featured Product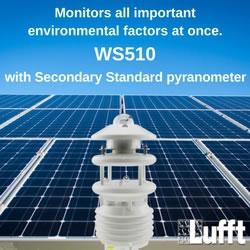 Professional weather sensors form the heart of large solar plants supporting their operation and performance. Lufft was the first manufacturer to combine several sensors in one housing, bringing the largest multiparameter weather sensor family with 19 members into being. Many of them are well-suited for solar site assessment and continuous monitoring. The most commonly used one is the WS600 delivering data on temperature, air pressure, wind, relative humidity and precipitation. Through its open protocol, it can easily be attached to radiation sensors e.g. from Kipp&Zonen. Other models have an integrated Silicon, Second Class or Secondary Standard radiation sensor.