Trial production is expected to commence later this month
LISHUI, China, Aug. 10, 2015 -- Tantech Holdings Ltd. (NASDAQ: TANH) ("Tantech" or the "Company"), a leading manufacturer of bamboo-based charcoal products, today announced that it has entered into a strategic cooperation agreement (the "Agreement") with Zhejiang EGE Battery Manufacturing Co., Ltd. ("EGE") to jointly develop, market, and sell carbon based aluminum batteries (the "Battery"). The Battery, using Tantech's Electric Double-Layer Capacitor ("EDLC") carbon material for the cathode, is expected to offer a safe, easy-charging, long-lasting and eco-friendly alternative to many commercial batteries in wide use today.

Trial production is expected to commence later this month with Tantech initially providing 10,000 units per month of EDLC carbon electrode material and ramping up to 20,000 units per month by the first half of 2016. The Battery can be used in a wide range of applications, such as solar/wind power storage systems for home and business, forklifts, electric garbage trucks, etc., and is expected to generate more than $10 million in sales for Tantech in 2016.
Mr. Zhengyu Wang, Chairman and Chief Executive Officer of Tantech, commented, "We are thrilled to partner with EGE, a major player with over a decade of success in providing battery solutions to a wide range of industries. Since 2011, EDLC carbon has been one of the fastest growing business segments for us with sales exceeding RMB 53 million in 2014. The Agreement, which allows for an effective combination of our strength in EDLC carbon electrode material and our recently launched capacitor battery R&D center led by renowned battery experts, Yuxun Yang, Limin Wang, and Yaoming Wu, with EGE's expertise in battery assembly and global distribution network, provides us a clear and easy path to quickly expand along the battery value chain and potentially another leg of growth in coming years."
Mr. Jianmin Chen, Chairman and Chief Executive Officer of EGE added, "The joint effort creates a win-win situation for both parties as we share similar visions for the Chinese battery market. We are positioning the battery as an upgrade or replacement for our mainstream Lead Acid batteries that we currently sell in a wide range of applications globally with Siemens AG, BT Group plc, and Emerson Electric Company among our major customers. We look forward to a mutually beneficially relationship with Tantech in coming years."
About Zhejiang EGE Battery Manufacturing Co., Ltd.
Founded in 2003, Zhejiang EGE Battery Manufacturing Co., Ltd. ("EGE") is a high-tech enterprise focused on producing Lead-crystal and other battery products used in a wide range of applications such as power storage systems, electric vehicles and electric locomotive. EGE currently employs over 250 employees and has production facilities in Huzhou City, Zhejiang Province and Zaozhuang City, Shandong Province, with combined annual production capacity of over 2,000,000 units of batteries that are sold in China and over 30 other countries including Germany, Netherlands, U.K., France, U.S., South Africa, Australia, and Malaysia, etc. For more information about EGE, please visit: http://www.chinaege.com/en/index.asp.
About Tantech Holdings Ltd.
Established in 2001 and headquartered in Lishui City, Zhejiang Province, China, Tantech Holdings Ltd., together with its subsidiaries, develops and manufactures bamboo-based charcoal products in China. It operates through three segments: Consumer Products, Trading, and Biofuel Energy. The company produces pressed and formed charcoal briquettes for use in grills, incense burners, and other applications under the Algold brand. It also offers Charcoal Doctor branded products, such as air purifiers and humidifiers, automotive accessories for air purification, underfloor humidity control, pillows and mattresses, wardrobe deodorizers, mouse pads and wrist mats, refrigerator deodorants, charcoal toilet cleaner disks, liquid charcoal cleaners, shoe insoles, and decorative charcoal gifts. In addition, the Company provides liquid byproduct consists of bamboo vinegar that is used in disinfectants, detergents, lotions, specialized soaps, toilet cleaners, and fertilizers, as well as in various agricultural applications. Further, it engages in providing bamboo carbon for use in EDLCs and the production of electric double-layer capacitor carbon products. The Company provides its products for industrial energy applications, as well as household cooking, heating, purification, agricultural, and cleaning uses. The company also exports its bamboo vinegar, bamboo charcoal purification, and EDLC carbon products. For more information about Tantech Holdings Ltd., please visit: http://www.tantech.cn/en/index.asp
Featured Product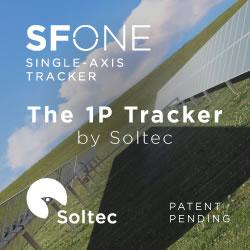 SFOne is the 1P single-axis tracker by Soltec. This tracker combines the mechanical simplicity with the extraordinary expertise of Soltec for more than 18 years. Specially designed for larger 72 an 78 cell modules, this tracker is self-powered thanks to its dedicated module, which results into a lower cost-operational power supply. The SFOne has a 5% less piles than standard competitor, what reduces a 75% the labor time.