The Company anticipates that its central Georgia licensee, RRDA, will break ground on the first commercial plant in the 4th quarter of 2015 and be ready for operations sometime in early summer of 2016.
WEST PALM BEACH, Fla., Aug. 11, 2015 -- Alliance BioEnergy Plus, Inc. (OTCQB:ALLM) (the "Company") announced today the completion of FEL 1, the first of four engineering stages that are required to complete construction of the first commercial CTS plant to be located in central Georgia and expected to break ground this fall.

Working together with Process Engineering Associates, LLC in Alabama and DCR Engineering Services of Tampa, Fl the Company completed this first critical phase weeks ahead of schedule and under budget, which allowed the team to proceed immediately with FEL 2 and start focusing more on the site-specific components of the process.
The engineering process for building a plant, that can convert a 1,000 mt a day of cellulose biomass, using the CTS patented system is a four-stage process; Front-End-Loading known as FEL 1 thru 3 and Detail. FEL 1, which is now complete, focused on magnitude. This includes the general layout of the plant, project scope, design and execution strategy, as well as capacity, raw material handling and storage needs. FEL 1 also started to look at major equipment size and sources, local civil engineering requirements and local utilities and infrastructure. FEL 2, which is now underway, starts to get much more specific on these and many other components of the build including; site specific needs, PFD's with heat and material balances as well as product purity, piping and electrical layouts. FEL 2 is expected to be complete in early Q4 2015.
The Company anticipates that its central Georgia licensee, RRDA, will break ground on the first commercial plant in the 4th quarter of 2015 and be ready for operations sometime in early summer of 2016. "We are extremely pleased with the progress of the plant engineering and how well this team works together." Said Jim Brown, President of the Company's subsidiary AMG Energy Group who is tasked with overseeing this project. He went on to say, "We are ahead of schedule, under budget and the scientific team under Dr. Blair really has a grasp on the science, which has made this entire process so much simpler, what else can you ask for."
Once the critical Process Engineering (FEL 1 & 2) is complete in Q4 2015 and the focus turns to local site prep the Company can start to collect on its signed $25 million territory license agreement and would expect to start collecting royalties form multiple licensees by mid summer 2016.
About ALLM :
Alliance BioEnergy +, Inc. ("ALLM") (OTCQB:ALLM), is a publicly traded company focusing on "Green" energy and renewable technologies. ALLM's subsidiaries focus on emerging technologies in the renewable energy, bio-fuels and new technologies sectors. ALLM owns a fifty percent interest in Carbolosic, LLC, and the exclusive rights to North America (including Canada, U.S. and Mexico) and Africa. Carbolosic holds the exclusive, worldwide license to the patented mechanical/chemical technology, "CTS™" developed by the University of Central Florida. The CTS technology is able to produce Sugars, Various Fine Chemicals, Plastics, Carbon Fibers and other valuable products from virtually any plant material, wood or paper by product, fruit casings or bio waste.
Featured Product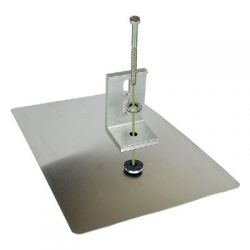 The GreenFasten™ - GF1 system utilizes the patented watertight technology EcoFasten Solar® is known for. The flashing is fit with our EPDM rubber bushing and when used with a compatible EcoFasten Solar compression bracket (milled with countersink), a watertight seal is created, which protects the integrity of the roof. Requiring just a single fastener (lag bolt or self-drilling), GreenFasten provides the fastest install in the industry and will not void roofing manufacturer's warranties. Backed by IAPMO certification, GreenFasten delivers a mounting solution for all new or existing (retrofit) composition shingle roofs, and is the most cost-effective solution available. Like all of the solar roof mount solutions in our line of products, GreenFasten is made in the USA using recycled materials.