Brazils largest solar exhibition sells out, reflecting growth of Latin American PV market and the popularity of the annual Intersolar South America event
SAO PAULO/PFORZHEIM/FREIBURG, August 12, 2015 - Intersolar South America, the largest solar exhibition in Brazil and the South American edition of the worlds leading exhibition series for the solar industry, is experiencing overwhelming interest from exhibitors and visitors ahead of 2015 event in Sao Paulos Expo Center Norte from September 1 to 3, 2015. With three weeks until the event, the third annual show already occupies 70 percent more floor space than the 2014 exhibition.

This years event will welcome more than 100 exhibitors from ten countries. More than 4,000 visitors will converge in San Paulo to forge critical business connections and hear industry insights that will grow the South American solar market.
"Were seeing a sizable increase in interest from exhibitors and visitors for this years Intersolar South America. The market is undergoing significant growth—particularly in the last twelve months," said Dr. Rodrigo Lopes Sauaia, executive director, ABSOLAR and chairman of the Intersolar South America conference committee. "National PV auctions are driving utility-scale solar project growth. Government regulations and new financing methods will certainly be hot topics at this years show."
Supportive policies and programs grow the Latin American market
The Brazilian Electricity Regulatory Agency (Agência Nacional de Energia Elétrica, or ANEEL) will host two PV auctions in the second half of 2015. Analysts expect auctions will contract more than 500 MW in large-scale PV projects supported by 20-year power purchase agreements. Projects will come online by November 1, 2018. Last year, Brazil completed the first successful national solar tender, awarding more than 31 projects, adding up to approximately 1 GW. Brazilian net-metering regulations will be revised around the close of 2015, further driving Brazilian solar industry growth. Improvements in financing and local policy has bolstered the overall Latin American market and GTM Research expects 2.2 gigawatts of photovoltaic capacity will be added in Latin America in 2015.
The Brazilian government is also expanding the National Electrification Program, Light for Everyone. The revised program supports distributed generation projects, including microgrids, to power communities that previously did not have reliable access to electricity. The government expects that the program will bring electricity to more than 100,000 people by 2018. To date, the program has improved electricity access for more than 15.5 million people in Brazil.
Conference sessions feature new financing models and market developments
More than 70 conference sessions will cover a range of topics relevant to South American PV professionals, including market trends, distributed generation, business models, solar auctions, financing and manufacturing. Notable sessions include:
- Latin American Markets: James Adam from GTM Research
- Financing Alternatives for Utility Scale: Marcelo Girão, Head of Energy for Project Finance, Itaú BBA, Brazil; and Carla Ricchetti, Investment Officer, International Finance Cooperation (IFC), U.S.
- Investing in Utility-Scale PV in Brazil - The View from the 2014 Auction Winners: Igor Fukushiro, Manager Business Development, Canadian Solar, Brazil; and Márcio Trannin, Head of Business Development Brazil & Uruguay, Enel Green Power Participações ltda., Brazil
Registration and additional information is available online at:
http://www.intersolar.net.br/en/home/program/general-information/pricing-registration.html
About Intersolar
With events spanning four continents, Intersolar is the worlds leading exhibition series for the solar industry and its partners. It unites people and companies from around the world with the aim of increasing the share of solar power in our energy supply.
Intersolar South America is the international exhibition and conference for the South American solar industry. It takes place at the Expo Center Norte in São Paulo, Brazil.
The events exhibition and conference both focus on the areas of photovoltaics, PV production technologies, energy storage systems and solar thermal technologies. Since being founded, Intersolar has become the most important industry platform for manufacturers, suppliers, distributors, service providers and partners in the global solar industry.
A total of 75 exhibitors and over 9,000 trade visitors attended Intersolar South America and the parallel event ENIE, Electrical Installations Exhibition & Conference in 2014. 71 speakers and more than 500 attendees discussed current industry topics and shed light on the conditions surrounding technological, market and political developments at the accompanying conference.
With over 20 years of experience, Intersolar has the unique ability to bring together members of the solar industry from across the worlds most influential markets. Intersolar exhibitions and conferences are held in Munich, San Francisco, Mumbai, Beijing and São Paulo. These global events are complemented by the Intersolar Summits, which take place in emerging and growing markets worldwide.
For more information on Intersolar South America, please visit: www.intersolar.net.br
Featured Product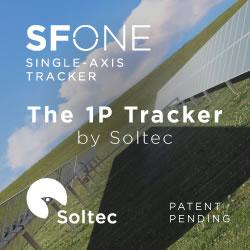 SFOne is the 1P single-axis tracker by Soltec. This tracker combines the mechanical simplicity with the extraordinary expertise of Soltec for more than 18 years. Specially designed for larger 72 an 78 cell modules, this tracker is self-powered thanks to its dedicated module, which results into a lower cost-operational power supply. The SFOne has a 5% less piles than standard competitor, what reduces a 75% the labor time.