How can hydrogen help Japan transition to renewable energy? Students working for DNV GL this summer made the case for the floating installation 'Jidai that produces hydrogen from seawater and wind energy.
14 August 2015

Following the 2011 disaster at a nuclear plant in Fukushima, Japan reduced its reliance on nuclear energy and now depends heavily on expensive and imported energy, mainly deriving from finite sources. The country is now determined to become a "carbon-free" hydrogen society generated by wind, solar and hydroelectric sources by 2040, and this forms the background for the 2015 DNV GL summer project.
13 students were selected out of 500 applicants to come up with a solution for offshore production, storage and transportation of renewable hydrogen. Results from the project named Jidai could not only provide Japan with clean hydrogen, energy independence and a greener environment, but also represent new job opportunities and free up space on land.
Jidai: a new era
Hydrogen represents a significant untapped potential for renewable energy. Recent developments in fuel cell technology have promoted hydrogen as an attractive fuel for transportation and residential consumption.
"We have developed Jidai, a concept representing a new era for hydrogen consumption, as a way of harvesting offshore renewable resources and facilitating a complete value chain of clean energy," says project manager and student Daniel Jakobsen, a 4th year student at NTNU.
The concept uses floating offshore wind turbines to harvest hydrogen from purified seawater, using a process of electrolysis. The extracted hydrogen is compressed and stored, in readiness for transport by tanker to shore (see technical details below). The project is based on existing technology, and the students have estimated that the technology could be cost-efficient by 2030. Although perfect for the deep waters off Japan's coastline, the system is easily adapted to a number of offshore destinations world-wide.
The project was presented to DNV GLs top management and industry partners at Høvik on 5 August. Japan's ambassador to Norway, Toshio Kunikata also took part to learn about this possible solution for Japan's energy production.
You can watch the students presentation here, and the animation explaining the concept here.
Sparked industry interest
"The worlds energy mix has to shift," said DNV GL Group President & CEO, Remi Eriksen, following the presentation. "To achieve that, we need to change the way we generate, transmit, distribute and use energy. This years student summer project has shown that use of offshore wind to produce hydrogen offshore is an attractive energy option for the future. The project also shows how technology innovation could create sustainable energy solutions at the same time as national ambitions on energy independence are achieved».
DNV GL and the industry can help accelerate hydrogen energy technology to a commercial scale. Oil and gas companies have been especially interested in learning how decommissioned platforms can find new purpose as hydrogen production facilities.
"We need inspiring visions of the future to create new technologies and solutions," says DNV GL Chief Sustainability Officer, Bjørn K. Haugland. "A green future presents us with plentiful opportunities for innovation and Jidai is an excellent example of this."
The Jidai concept: Utilizing available technologies
Jidai is a four-step process:
1. Hydrogen production requires water with very high purity, and seawater is therefore desalinated in three energy-efficient steps.
2. Multiple stacks of polymer exchange membrane (PEM) electrolysers produce high-purity hydrogen and oxygen from water. This gives the plant enough capacity to match the maximal power output of the wind farm. PEM electrolysis is at the heart of Jidai, and the electrolysers are compact and flexible, responding to intermittent power supply on a second to second basis.
3. Hydrogen gas is compressed to 700 bar in an ionic compressor to reduce storage volume. The pressure of the gas is gradually increased in five steps, keeping the energy at loss close to zero.
4. High-pressure hydrogen gas is stored in a module-based tank system. By using lightweight composite tanks, both weight and cost are reduced. The storage capacity is 400 tonnes of hydrogen at 700 bar, equivalent to three days of average production.
All system components have been specifically chosen to withstand the intermittent power supply from the wind turbines as well as frequent start-stop cycles without undue delay or wear. In addition, a combined battery and fuel cell backup system provides the necessary power for keeping critical equipment in operation when wind power is unavailable. As a result, the wind power can be stored and reactivated according to demand.
Even though the technologies in Jidai already exist, they need to be commercialized further before the concept can be applicable. According to project calculations, Jidai could be cost-efficient by 2030, well before the due date for Japan's self-sufficiency.
Download the brochure here. http://production.presstogo.com/fileroot7/gallery/DNVGL/files/original/9af5ee9d44454df49592fddbe5c959b3.pdf
DNV GL Summer Project 2015
DNV GL has held an annual summer project since 2008. Around a dozen fourth year students work to solve a complex and relevant industry challenges. The project runs for seven weeks and is rounded off with a presentation to DNV GL, its management and industry partners.
This year, the summer project had more than 500 applicants, and 13 highly qualified students within engineering, nanotechnology, economics and renewable energy where chosen to participate. The theme chosen for this years project is 'Offshore hydrogen production in Japan.
Svein Inge Leirgulen
Group Head of Media Relations, DNV GL, Group Communications
E-mail: Svein.Inge.Leirgulen(at)dnvgl(dot)com
Tel: +47 977 23 133
About DNV GL
Driven by the purpose of safeguarding life, property and the environment, DNV GL enables organizations to advance the safety, efficiency and sustainability of their business. DNV GL provides classification and technical assurance along with software and independent expert advisory services to the maritime, oil and gas, and energy industries. The company also provides certification services to customers across a wide range of industries, including food and beverages, healthcare and automotive.
Combining leading technical and operational expertise, risk methodology and in-depth industry knowledge, DNV GL empowers its customers decisions and actions with trust and confidence. DNV GL continuously invests in research and collaborative innovation to provide customers and society with operational and technological foresight. With origins stretching back to 1864, its reach today is global. Operating in more than 100 countries, DNV GLs 16,000 professionals are dedicated to helping customers become safer, smarter and greener.
Featured Product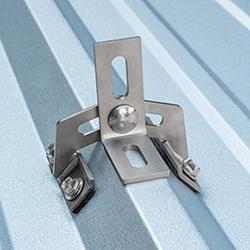 They have been changing the game for 10 years with their original Top Mount line for Asphalt Shingle roofs, and by now supplying one of the widest ranges of solar mounts in North America. From their patented products, to the custom production services they offer, QuickBOLT has been working with solar installers for nearly a decade to make solar installations easier than ever before.