Commercial solar leader helps Santa Maria's largest farm extend sustainability leadership
Santa Maria, Calif.—August 18, 2015—REC Solar, a national provider of commercial solar and energy solutions, today announced the interconnection of a 1 MW solar energy system for Windset Farms®. The Santa Barbara County farm is the largest in Santa Maria and grows non-GMO produce year-round in its state-of-the-art greenhouse facility. The roof-mounted array will enable the farm to run on clean energy, further enhancing its sustainable operations. This installation adds to REC Solars portfolio of over three dozen farms and food and beverage facilities in California.

"REC Solar is the clear leader in helping California farms go solar, and deciding to work with them was an easy decision," said David Wesley, Director of Projects at Windset Farms®. "They helped us overcome some unique construction challenges, like high winds and site access restrictions. To top it off, the system was easy to finance and helped us save money on our energy bills immediately."
REC Solar installed the 4,032-panel array on the roof of the farms shipping and packing building. The system was designed to accelerate the farms return on investment by maximizing energy production and offsetting consumption when utility electricity rates are highest. To achieve this goal, REC Solar installed a custom racking system combining flush-mounted panels on the western roof face and southern-tilted panels on the eastern roof face to receive optimal sun exposure. The racking system does not penetrate the roof, which will minimize long-term maintenance costs.
"REC makes it easy for farms to go solar because we cater to their specific business operations and ensure minimal disruptions. Since we work with our customers from start to finish, we can provide tailored financing, design and O&M options that help each business meet its energy savings targets," said Ryan Park, Director of Business Development at REC Solar. "Windset Farms is already a clear leader in cutting-edge technology and sustainability practices, and were pleased to help them to extend their leadership even further."
Windset Farms® is a leader in deploying cutting-edge sustainable technology, including but not limited to water and CO2 recycling, an Integrated Pest Management system, heat-loss prevention screens and efficient land use. The family-run 128-acre facility in Santa Maria grows many varieties of tomatoes and cucumbers for leading national retailers such as Costco and Trader Joes.
The farm will host a ribbon cutting ceremony for their new solar installation on Tuesday, August 18 at 2 p.m.
In addition to Windset Farms, REC Solar has installed solar systems for large and small growers throughout the state, including Pandol, Vignolo Farms, Castlerock Vineyards, Delano Growers, Peter Rabbit Farms and Amaral Ranches. The company recently acquired Stellar Energy and expanded operations in the agricultural market, adding more than 10 wineries and farms to their portfolio. With financial backing from one of the largest energy companies in the world, REC Solar offers a streamlined PPA that simplifies the financing process to help farms and other businesses go solar with no money down.
About REC Solar
REC is the only renewable energy provider focused exclusively on businesses and backed by one of the largest energy companies in the world. Incorporating experience from more than 500 successful commercial solar installations over 17 years, REC Solar tailors financing and technology solutions to immediately deliver bottom line savings. REC Solar makes commercial solar simple, working seamlessly with customer operations to deliver clean energy for decades. For more, visit RECSolar.com or call 844-REC-SOLAR (844-732-7652).
About Windset Farms®
Windset Farms® is a family-run business that has become one of the largest growers and marketers of greenhouse produce in North America. They operate greenhouses in Abbotsford, B.C., Delta, B.C., Santa Maria, California and Las Vegas, Nevada. Windset products are sold across Western Canada, the Western United States, Mexico and Asia; and products including peppers, cucumbers, tomatoes, lettuce, eggplant, strawberries and endives. The companys facilities combine state-of-the-art technology and old-fashioned attention to detail to ensure optimal growing conditions and sustainable practices. This has been recognized through a number of awards including the 2014 Worlds Best Tomato Grower Award. Visit www.windsetfarms.com for recipes and product information. Also check out www.facebook.com/WindsetFarms and www.twitter.com/WindsetFarms for live updates.
Featured Product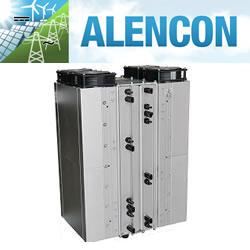 Alencon Systems is the premier manufacturer of high power, high voltage DC:DC optimizers for alternative energy applications including solar, battery energy storage, Microgrids, Fuel Cells and Electric Vehicle charging. Alencon's DC:DC converter offerings include the SPOT, BOSS and CUBE series DC:DC converters. The SPOT is a modular, uni-directional DC:DC solution ideal for solar applications. The BOSS is a modular, bi-directional unit for use with battery energy storage. The CUBE is a monolithic DC:DC converter which is available in both uni-directional and bi-directional modalities. Pictured above, is the Alencon SPOT.