More than 3,900 applications submitted in May, June and July
PHOENIX--In the past decade, APS has built one of the most extensive networks of solar generation in the country, with more than 900 megawatts of clean solar energy helping to serve customers across the state. And, that number continues to grow as APS residential customers continue to apply in record numbers for new rooftop solar systems.

APS reported today that more than 1,300 applications were submitted for new solar each month in May, June and July (a total of approximately 3,900 applications) - with no slowdown anticipated. These record-breaking numbers are a 70 percent increase from the 2,300 applications received in the first quarter of 2015.
"It is no surprise that our customers are enthusiastic in their desire to take advantage of the states most abundant resource - the sun," said Stacy Derstine, APS Vice President and Chief Customer Officer. "In the past 12 months, we have received more than 9,400 rooftop solar applications, the highest number of applications for any 12-month period in our companys history. And, we expect this record-breaking application rate to continue.
"These numbers reinforce our commitment to modernizing our grid and updating our pricing structures so customers can continue to take advantage of new technologies that help power their homes and manage their bills, while also ensuring that solar stays sustainable for the long-term."
Each application submitted to APS is thoroughly reviewed to ensure each rooftop solar system is installed to code for the safety of customers, APS linemen working on the grid, and the community. APS has hired additional support to process the compounding volume of applications.
Solar customers can ensure a smoother progression by taking a few proactive steps:
* When applying for rooftop solar, customers should refer to the application checklist at aps.com/dg to guarantee their application contains no errors that would require follow-up or correction.
* Customers should remain as involved as possible in the application process. If the solar installer is taking the lead, make sure to follow up and check progress with the installer.
* During and after the application process, customers should maintain open communications with both APS and their solar installer.
As residential customers continue to install in record breaking numbers, APS encourages its customers to know the facts before they make the decision to go solar. The company has a great resource called 8 things to know if youre considering rooftop solar.
In addition, in 2013 the Arizona Corporation Commission mandated that all solar customers are required to sign a disclaimer as part of their customer application submitted to APS. The disclaimer states that utility rates change, which could impact the potential savings a customer may realize after installing solar, and that future electricity rate projections that may be presented to a customer are not approved by APS or the Commission. Research solar consumer protection for more information.
APS, Arizonas largest and longest-serving electricity utility, serves nearly 1.2 million customers in 11 of the states 15 counties. With headquarters in Phoenix, APS is the largest principal subsidiary of Pinnacle West Capital Corp. (NYSE: PNW).
Featured Product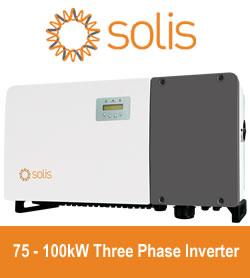 Solis75kW - 100kW series high-power string inverters are widely used in industrial and commercial rooftops. Solis's new three-phase string inverter is the first choice for industrial and commercial photovoltaics. 75-100kW three phase series string inverter have Maximum 28 strings input, support "Y" type connection in DC side. Maximum string input current 13A, support bifacial modules access.Supports anti-PID function to improve system efficiency.