CITEL is excited to be a part of SPI 2015 and to discuss changes to the UL1449 standard for Surge Protective Devices.
MIRAMAR, Fla., Aug. 18, 2015 -- CITEL, the leader in photovoltaic Surge Protective Devices (SPD's), is pleased to announce our UL1449 4th Edition Type 1CA SPD for 1500Vdc systems will be featured at Solar Power International in Anaheim, CA on Sept. 14-17th. "The solar market is evolving to next generation 1500 volt systems as well as more efficient 1000 volt system designs," said Patrick Coyle, VP of CITEL, "Today, one can imagine the susceptibility of all systems to threats both man-made and natural. At CITEL, we do only surge protection. This means that our customers can be assured that they are choosing SPD's that are designed for the worst case scenario. They are engineered to keep their systems ahead of the technology curve and ahead of changes to relevant standards."

By 2016, a new UL1449 4th Edition Type will become mandatory. It is called a Component Assembly (CA). This designation is available for Type 1, Type 2, Type 3 and Type 4. It will replace the existing Type 4 category of UL1449 3rd Edition. The main difference is that the Type 1CA and Type 2CA will be required to test and publish a short circuit current rating (SCCR), a voltage protection rating (VPR) and pass the intermediate current tests. All these listings from every manufacturer can be found at the ul.com website in the online certifications directory. This will make it easier to find and compare SPD's from various manufacturers.
CITEL's model DS60 and DS50 families are already up to date with the changes and are currently approved as a Type 1 Component Assembly (1CA). These models have the option to feature CITEL's patented VG Technology. VG Technology provides the key benefits of increased life expectancy, elimination of leakage current, elimination of working current, and will meet the most stringent UL standards with no conditions of acceptability.
Take advantage of our surge experts that will be on hand at the show to discuss your application needs. Just a few minutes with us and you will get clear picture about what is required to efficiently protect your PV system.
CITEL is excited to be a part of SPI 2015 and to discuss changes to the UL1449 standard for Surge Protective Devices. We invite you to visit our booth #947 and learn more!
About CITEL: Since 1937, CITEL has manufactured a complete line of surge protective devices to protect sensitive equipment from the harmful effects of lightning strikes and other line disturbances.
Video - https://www.youtube.com/watch?v=e30ptEvW2Qk
Featured Product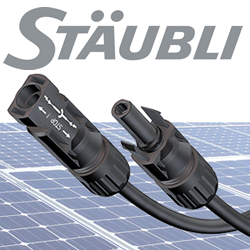 ​Stäubli Electrical Connectors are used on more than 300 GW, over 50% of the PV capacity worldwide. The MC4 family of UL and TUV listed products include connectors, in-line fuses, branch connectors, cable assembly and more.