Fronius USA is pleased to announce its sponsorship and exhibition return to the 2015 Solar Power International tradeshow in Anaheim, California September 14th through the 17th.
Portage, IN (June, 2015) Fronius USA is a quality leader in the solar industry and will showcase this with the full line of Fronius SnapINverters on display, as well as recent developments in solar technology that all tie into the Fronius vision of 24 Hours of Sun. Fronius USA has been leading in product development with a whole new innovative product group with the slogan, "Solutions built to last". The completely field serviceable SnapINverter line offers the consumer with a sustainable solution while the technology boasts the ability to change for future codes, standards and innovations.

RESIDENTIAL SOLUTIONS THAT LAST
Fronius SnapINverters for the residential market, from 1.5 to 15 kW, will be on display as well as Fronius Rapid Shutdown Box. The Fronius Rapid Shutdown Box pairs efficiently with the residential SnapINverters for a turn-key solution to NEC 2014 690.12 code. Another highlight that will be featured is the Fronius storage solution including the Tesla Powerwall. A global partnership between Fronius and Tesla was announced recently.
The solar inverter manufacturer also recently announced its production of the Fronius Primo SnapINverter in the United States and plans to celebrate this at Solar Power International 2015 as well. "Fronius and our products are an even stronger player in the solar industry here in the United States now that our Fronius Primo is produced here and continues to represent Fronius quality worldwide," said Wolfgang Niedrist, President and CEO of Fronius USA. "Fronius is here to stay in the United States and plans on continuing the growth and innovation we are known for."
COMMERCIAL PROJECTS THAT LAST
The Fronius Symo, 10-24kW, is the commercial line of the SnapINverters and will be present in Fronius USAs booth as well this year. The Fronius Symo is a clear commercial choice with its design and flexibility. The Fronius Symo also offers developers a NEC 2014 compliant inverter that can be mounted in any direction or on a pole
Fronius will be both inside the convention center at Booth 3700 as well as outside offering demonstrations, games, drinks, and much more. Fronius USA is also a Gigawatt Sponsor of the event.
The Fronius SnapINverter series are now fully available for order. For more information on the SnapINverter line, please visit www.snapINverter.com.
About Fronius USA Solar Energy Division
Fronius USA LLC, headquartered in Portage, Indiana, is the leader in photovoltaic (PV) system inverters and applicable accessories. The company is a part of a global network and subsidiary of Fronius International GmbH, headquartered in Wels, Austria. Fronius USA LLC has three divisions: Perfect Welding, Solar Energy and Perfect Charging. Through innovation and new technologies, Fronius USA has become the resource for quality service, products and innovations to a growing solar industry. For more information, visit www.fronius-usa.com.
Featured Product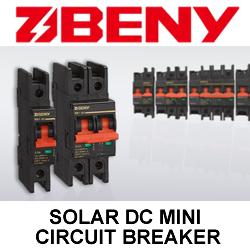 The BB1-63 modular miniature circuit-breakers can be used in solar DC circuits up to 1200 VDC (4-poles execution). Application in solar DC circuits, battery energy storage systems and UPS. Arc flash barrier design keeps solar equipment more safe and reliable. For DC circuit over-current protection.