Illinois Project Short-Listed for Excellence by Energy Storage North America
CHICAGO, Aug. 18, 2015 -- Invenergy LLC ("Invenergy"), a leader in innovative energy storage solutions, announced today that its Grand Ridge Energy Storage project has been named a finalist by Energy Storage North America (ESNA) - North America's largest energy storage conference and exposition - for a highly-coveted 2015 Innovation Award. The citation is for excellence in installed energy storage in the Centralized Storage category for utility-scale projects, with finalists selected after a rigorous review of dozens of award applications.

With a 31.5 MW power rating, Grand Ridge Energy Storage is the second-largest lithium project in the world. Operational since May of this year, it utilizes BYD America's Containerized Energy Storage System. The unit is located in La Salle County, Illinois, at Invenergy's Grand Ridge Energy Center, the largest in the world featuring wind, solar, and advanced energy storage in one location. It is comprised of a 210 MW wind farm; a 20 MW solar project; and a second, 1.5 MW energy storage project.
"This recognition by ESNA speaks to Invenergy's commitment to providing innovative storage solutions for our customers," said Kris Zadlo, Senior Vice President of Regulatory Affairs, Storage, and Transmission at Invenergy. "We're very proud to have developed a leadership position in the energy storage industry, which we believe will play a transformative role in the evolution of the electric grid."
The annual ESNA awards are determined solely by Twitter voting, which is now underway and will conclude at 11:59 p.m. on Friday, October 2, 2015. Voting for the Grand Ridge Energy Project can be done via a tweet that must include the hashtag #ESNA2015Awards and at least one of these project-identifiers: #GrandRidge, #Invenergy, or #BYD. One tweet per user will count toward the final results.
About Invenergy
Invenergy and its affiliated companies develop, own, and operate large-scale renewable and other clean energy generation and storage facilities in North America and Europe. Invenergy is committed to continued innovation in clean power solutions. Invenergy's home office is located in Chicago and it has regional development offices in the United States, Canada, Mexico, Japan, and Europe. Invenergy and its affiliated companies have developed more than 9,100 MW of projects that are in operation, in construction, or under contract, including 76 wind, solar, and natural gas-fueled power generation projects and energy storage facilities.
Invenergy has more than 100 MW of energy storage projects in operation, in construction, and in development in the United States, including the 31.5 MW Beech Ridge Energy Storage project in West Virginia, which is scheduled to commence operation later this year.
For more information, please visit www.invenergyllc.com.
Featured Product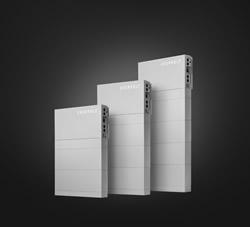 Heterojunction technology minimizes electron loss - Thin amorphous silicon layers reduce electron carrier loss to minimal levels. The result is a remarkably high-efficiency solar cell that produces Greater long-term energy output. Innovative pyramid structure absorbs more sunlight - A uniquely effective pyramid structure optimizes sunlight capture. By reducing outward reflection and directing sun rays inward to the cell, HIT absorbs more sunlight and generates more electricity for your home. Dual-sided cells multiply energy output - Advanced bifacial cells work in concert with the pyramid structure to multiply solar power output exponentially. Available sunlight is captured from both sides of the panel, converting more sunlight into electricity.