6th annual conference on Wind Turbine Blade Manufacture 2015, which takes place from 30th November to 2nd December 2015 at the Maritim Hotel in Dusseldorf, Germany.
The tips of the blades on megawatt wind turbine blades, the largest rotors, travel the equivalent of going around the world once a year! The sizes of wind blades are continuing to expand and top manufacturers and turbine makers will be talking about their latest developments at the 6th annual conference on Wind Turbine Blade Manufacture 2015, which takes place from 30th November to 2nd December 2015 at the Maritim Hotel in Dusseldorf, Germany. The conference kicks off with a market study of the materials in use in wind blades by Cristina de Santos, an analyst with AMI Consulting.

One key factor in blade design is how feasible it is to manufacture the new product: Vestas Wind Systems will address this issue in the opening technical presentation. There are particular aspects of design that have to be carefully examined with much larger blades and Siemens Windpower will talk on this subject. The wind turbine industry is constantly learning from operational experience and generating more efficient products: Nordex Energy has developed a new large onshore rotor blade, while Blade Dynamics has an innovative modular offshore blade. Pontis Engineering provides support for blade manufacturing worldwide and is currently examining the challenges in design and manufacture of a 200 m rotor. From the testing perspective, DNV GL has a new blade standard.
Durability is another essential feature of wind turbines and the target is a lifespan of over 25 years. As the wind blades get bigger and operate in more exposed weathering conditions offshore there are challenges to meet such as dealing with leading edge protection. LM Wind Power is working to establish a design standard to cover this issue. In terms of materials, 3M has conducted coating research to improve performance. In global regions where cold weather and icing conditions are prevalent such as Sweden and Canada it is important to prevent ice build up to maintain power generation, as the weight of ice that forms prevents the rotor from turning and is also a hazard. Acciona Windpower has been reviewing the effectiveness of anti-icing and de-icing systems for wind blades.
The electricity produced by wind turbines now plays a significant role in energy production in many of the major global economies and the manufacturing supply chain is moving to a worldwide structure. Tecsis, the specialised blade maker with headquarters in Brazil, is expanding to new geographic regions and will describe some of its production systems at the AMI Wind Turbine Blade Manufacture 2016 conference. Senvion has built and installed over 6,000 wind turbines and the latest machines are rated over 6MW, the company will be speaking on some of the latest technology in blade manufacturing.
Materials are critical to the success of wind turbines and Professor Brondsted of DTU Wind Energy will highlight the role of composite matrix material and strain hardening on compression properties. There are property gains to be had from the optimization of unidirectional glass fibre structures and Owens Corning will talk on this subject. Sika Europe has a next generation blade bonding adhesive for extra toughness and Hexion has worked with Aerodynamik Consult to examine the internal stresses in bonded blade joints. There are standards for new wind materials and Aditya Birla Chemicals (Thailand) will outline the qualification process for resin and adhesive. Recycling will be an increasing requirement in the future and Professor Henning Albers is studying the options.
Blade quality is critical to reliability both in production and in service. Enel Green Power will highlight some aspects of blade manufacturing quality control and Aeroblade will describe blade condition assessment and monitoring. From the US, Sandia National Laboratories has been conducting research to establish the reliability of quality assurance measures in the wind industry.
Wind turbines continue to advance in technology and power generation capacity with concurrent increases in size of rotors and 200m in diameter is now within reach of the next wave of windmills. From early Middle East flour mills to the electricity grid of today natural energy is the key route to sustainable living. AMIs Wind Turbine Blade Manufacture 2015 in Dusseldorf in early December brings together wind farmers, top global wind blade manufacturers, researchers and the industry supply chain to review the latest design, manufacturing, reliability and quality control, testing, materials, weathering and long-term performance of wind energy composites.
Featured Product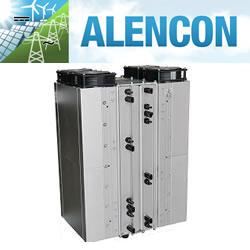 Alencon Systems is the premier manufacturer of high power, high voltage DC:DC optimizers for alternative energy applications including solar, battery energy storage, Microgrids, Fuel Cells and Electric Vehicle charging. Alencon's DC:DC converter offerings include the SPOT, BOSS and CUBE series DC:DC converters. The SPOT is a modular, uni-directional DC:DC solution ideal for solar applications. The BOSS is a modular, bi-directional unit for use with battery energy storage. The CUBE is a monolithic DC:DC converter which is available in both uni-directional and bi-directional modalities. Pictured above, is the Alencon SPOT.