Roofless community solar model to provide equal access to clean renewable energy and lower utility bills for families, renters, and businesses across New York.
LOUISVILLE, COLO. (August 19, 2015) - Clean Energy Collective (CEC), pioneers of the community solar model and the nations leading shared solar developer, announced today it is taking the lead in offering New York ratepayers the ability to participate in solar generation through community shared solar projects. Development is already underway on more than a dozen project sites from the five boroughs of New York City to Upstate, serving residential and commercial customers in the Con Edison, NGRID Niagara Mohawk, Central Hudson, and Orange and Rockland territories.

Prompted by New Yorks newly enacted Shared Renewables program, CEC is bringing its popular Roofless Solar solution to the state, empowering residential and business consumers to tap the financial and environmental benefits of local shared renewable energy generation—regardless of income level, home or business location, or property ownership.
Roofless Solar enables anyone with an electric bill to enjoy all the benefits and savings of solar without the installation of panels on their roof or property. Participants share in the energy production of a commercial grade solar array that is optimally positioned for maximum sun exposure in or near their community. Participants then receive guaranteed bill credits applied directly to their monthly electric bill, saving thousands of dollars over the life of the program.
"New York is leading the nation in updating its electric grid for the 21st century, and this community solar program is an important step in that direction," said Clean Energy Collectives founder and CEO Paul Spencer. "We are excited to serve such a large and diverse market with roofless community solar, knowing that schools, businesses, local governments, and families across New York are looking for more accessible and affordable energy solutions."
Part of Governor Cuomos Reforming the Energy Vision (REV) initiative aimed at modernizing the states electricity infrastructure, the Shared Renewables program allows any energy customer to participate in a centrally-located renewable energy project and receive a credit for their portion of the clean energy produced on their utility bill. The new policy empowers ratepayers like renters, families and businesses in multi-unit buildings, and homeowners with shaded roofs with access to the financial and environmental advantages of clean local energy production through community solar.
Substantial and rapid growth is expected from the states massive potential customer base, boasting some 8 million electricity ratepayers statewide. A significant number of these are in New York City, where less than 5% of customers can actually put solar on their roof yet 100% have the opportunity to sign up for community solar.
As the worlds leading developer of roofless solar solutions, CEC has demonstrated that they understand this market and its many complicated issues. CEC introduced the countrys first community-owned solar project in 2010, and now has built or has under development more than 100 community solar projects with 25 utility partners across 11 states, representing more than 130 MW of community solar capacity.
"We have seen firsthand the positive impacts community solar brings to local communities," Spencer added. "Its more than just clean power and lower electric bills, it provides an enhanced quality of life for everyone and aids in sustainable economic growth."
To register interest and be among the first to receive details on CECs roofless community solar program for New York, call (800) 646-0323 or visit www.NewYorkCommunitySolar.com.
About Clean Energy Collective
A solar tech start-up in 2009, Clean Energy Collective (CEC) has grown to become the worlds leading developer of Roofless Community Solar solutions. CEC pioneered the model of delivering clean power-generation through medium-scale solar PV facilities accessible to all utility customers. Since establishing the first community-owned solar array in the country in 2010 near El Jebel, Colorado, CEC has built or has under development more than 100 Roofless Community Solar projects with 25 utility partners across 11 states, serving thousands of customers, and representing more than 130 MW of community solar capacity. www.easycleanenergy.com
Featured Product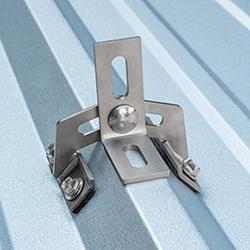 They have been changing the game for 10 years with their original Top Mount line for Asphalt Shingle roofs, and by now supplying one of the widest ranges of solar mounts in North America. From their patented products, to the custom production services they offer, QuickBOLT has been working with solar installers for nearly a decade to make solar installations easier than ever before.