Attendees celebrate companys 40 years of U.S. production
HILLSBORO, Ore., Aug. 24, 2015 - SolarWorld, the largest U.S. crystalline-silicon solar manufacturer for 40 years, this week convenes about 500 solar installers and 40 vendors from across the continent for an annual summit of meetings and celebrations, this year keying on the companys 40th anniversary of American manufacturing.

Hailing from as far as Hawaii, Massachusetts, Guam, Mexico and Canada, the third annual SolarWorld Installer Summit will showcase technical, marketing and business sessions as well as an awards ceremony to recognize the biggest impacts that attendees have made in spreading solar technology nationwide.
The event takes place Tuesday through Thursday at the Portland Marriott Downtown Waterfront and includes tours of SolarWorlds U.S. manufacturing in Hillsboro. There, the company continues its build-out of on-campus solar, as Sunlight Solar Energy Inc.., a SolarWorld authorized installer, breaks ground on a 250-kilowatt solar system.
"This robust turnout of highly capable installers is evidence that solar is becoming an ever-bigger part of the nations energy mix, and that its here to stay," says Ardes Johnson, U.S. vice president for SolarWorld. "Along their path, they are laying the groundwork for a more sustainable energy supply for generations to come."
A backdrop for this years summit - SolarWorlds largest - is its celebration of SolarWorlds 40 years of U.S. production. Bill Yerkes founded Solar Technology International in mid-1975 at a time when few people viewed solar as a source of terrestrial electricity generation, then he and legacy owners did much to industrializes manufacturing of solar panels.
SolarWorld has been the U.S. legacy of Solar Technology International since buying its industrial lineage in 2006. Today, the company operates consolidated operations at a plant employing more than 800 workers in Hillsboro, Oregon - the largest crystalline silicon manufacturing plant in the Western Hemisphere.
This history is captured in a video, "SolarWorld: Solar History One Innovation at a Time."
About SolarWorld REAL VALUE: SolarWorld manufactures and sells high-tech solar power solutions and, in doing so, contributes to a cleaner energy supply worldwide. The group, headquartered in Bonn, Germany, employs about 3,500 people and carries out production in Freiberg, Germany; Arnstadt, Germany; and Hillsboro, Oregon, USA. From raw material silicon to solar wafers, cells and modules, SolarWorld manages all stages of production ‒ including its own research and development. Through an international distribution network with locations in the United States, Europe, Singapore, Japan and South Africa, SolarWorld supplies customers all over the world. The company maintains high social standards at all locations across the globe, and it has committed itself to resource- and energy-efficient production. SolarWorld was founded in 1998 and has been publically traded on the stock market since 1999. Connect with SolarWorld on Facebook, Twitter and www.solarworld.com.
Featured Product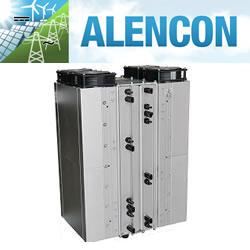 Alencon Systems is the premier manufacturer of high power, high voltage DC:DC optimizers for alternative energy applications including solar, battery energy storage, Microgrids, Fuel Cells and Electric Vehicle charging. Alencon's DC:DC converter offerings include the SPOT, BOSS and CUBE series DC:DC converters. The SPOT is a modular, uni-directional DC:DC solution ideal for solar applications. The BOSS is a modular, bi-directional unit for use with battery energy storage. The CUBE is a monolithic DC:DC converter which is available in both uni-directional and bi-directional modalities. Pictured above, is the Alencon SPOT.