The GILDEMEISTER energy storage GmbH (Wiener Neudorf) announces the first two CellCube installations in Czech Republic as of 2015.
National Park Šumava

The energy storage project was officially opened in June 2015 to supply the first e-charging station located in the National Park Šumava with green power. The park is part of the Bohemian Forest, one of the largest connected forest areas in Central Europe. In order to supply a fleet of electric vehicles, which can be rented by visitors, a green solution was sought, that could also operate grid-independent. In this case the CellCube storage system works in combination with an 11 kWp solar system as well as with a 5 kW wind power plant. The combination of power generation from renewable energy sources with a storage system allows for 100% CO2-free charging of electric vehicles, 24 hours a day, seven days a week. The usage of a Vanadium system offers the clear advantage that it does not contain any ecologically harmful materials and is neither flammable nor explosive. Consequently it is ideal for the use in protected areas.
South Bohemian Science and Technology Park
The other project was installed for the South Bohemian Science and Technology Park, located in Budweis, about 100 kilometers south of Prague. The Park is located on the campus of the University of South Bohemia and serves as entrepreneurial innovation center. The Vanadium-Redox-Flow storage system CellCube FB 30-130 installed, works in combination with a 76 kWp photovoltaic system. The storage system, with a power output of up to 30 kW and a storage capacity of 130 kWh, is used in order to increase the self-consumption level of the building, but also as safeguard in case of blackouts.
The successful implementation of the two projects was enabled through the cooperation with B64, s.r.o. situated in Prague, the official partner of GILDEMEISTER energy storage GmbH for the Czech Republic and Slovakia. "We are very glad that the partnership with B64 s.r.o. works out so well", underlines Bengt Stahlschmidt, Head of Global Sales of GILDEMEISTER energy storage GmbH. "For 2015 already three further CellCube installations are planned in cooperation with B64." With a service life of more than 20 years and almost unlimited cylces of charging and discharging, the CellCube is the optimal storage unit for a wide variety of applications, including e-mobility solutions, off-grid and industrial solutions.
For more information visit: www.energy.gildemeister.com/en
Or visit us at European Utility Week in Vienna, from November 03 to 05.
Featured Product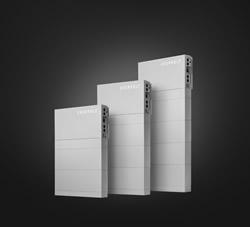 Renewable energy stored in an EVERVOLT home battery system is the perfect backup plan against an uncertain utility grid and weather events. Run key appliances longer and live life when the unexpected happens. EVERVOLT battery storage systems are covered by a complete 12-year warranty from Panasonic.