Companies see alliance on renewable energy projects as large contributor to future growth in fast growing distributed solar and microgrid sector
BELLINGHAM, Wash.--UGE International (TSX-V:UG, OTC:UGEIF), a global leader in distributed renewable energy solutions for businesses, and Alpha Energy, an engineering procurement and construction firm, have entered into an agreement to work jointly on the development, installation, maintenance and financing of distributed generation projects. The collaboration will put forth a unique vertically integrated team, with the ability to efficiently approach the distributed generation and energy storage markets on a global basis, which is projected to grow at a rate of 300 percent per year according to Navigant Research.

UGE is a leading full service renewable energy provider for commercial and industrial clients with over 2,000 installations in more than 100 countries. Recent projects include the installation of wind turbines on the Eiffel Tower in Paris and the design and installation of a hybrid wind, solar and battery system that provides complete power to a telecommunications facility in the Pacific Islands, as well as the largest distributed solar portfolio in Central America. In May, UGE announced that it was a recipient of an award to develop microgrids in New York City as part of the RISE:NYC initiative.
"We look forward to enhancing our capabilities and market presence by partnering with Alpha Energy," said Joshua Rogol, director of business development for UGE. "Alpha Energys global engineering procurement and construction (EPC) expertise on large-scale construction and solar projects is a win for us and our clients. Together, we expect to deploy leading edge solar and microgrid solutions for commercial customers worldwide."
Alpha Energy is a leading EPC of turn-key renewable energy systems for utility, commercial, institutional and remote applications that utilize solar, wind and alternative resources. Alpha Energy recently completed construction of the 29.6 MW HXOap Solar Farm in Roanoke Rapids, North Carolina. The company is currently engaged in several projects, including a 100 MW solar farm in Cumberland County, North Carolina. Once complete, the project will be the largest solar facility east of the Rockies and is expected to generate enough electricity to power 30,000 homes.
"Both of our companies are committed to designing and building the highest-quality, most innovative and efficient systems," said Greg Siemer, general manager and vice president of Alpha Energy. "UGEs track record of successfully completing world-class projects, along with their project financing capabilities, will ensure this is a successful venture."
The two companies are already collaborating on several projects. Details are expected to be available in the near future.
About Alpha Energy
As a member of The Alpha Group, Alpha Energy is able to leverage the collective experience and resources that come with 40 years as a global powering solutions pioneer, delivering reliable electric power in utility scale applications as well as the most demanding and remote off-grid applications worldwide. Through these relationships, Alpha Energy is able to provide expertise and efficiencies that are unique in the renewable energy industry.
About UGE
UGE is a leading full service renewable energy provider for commercial and industrial clients, with over 2,000 installations in more than 100 countries. Leveraging project financing and its proprietary technology platform, UGE deploys solar and microgrid energy solutions to reduce energy costs and increase resiliency, while making the world more sustainable.
Featured Product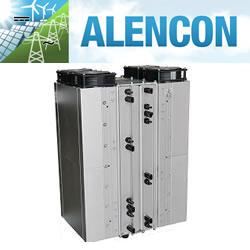 Alencon Systems is the premier manufacturer of high power, high voltage DC:DC optimizers for alternative energy applications including solar, battery energy storage, Microgrids, Fuel Cells and Electric Vehicle charging. Alencon's DC:DC converter offerings include the SPOT, BOSS and CUBE series DC:DC converters. The SPOT is a modular, uni-directional DC:DC solution ideal for solar applications. The BOSS is a modular, bi-directional unit for use with battery energy storage. The CUBE is a monolithic DC:DC converter which is available in both uni-directional and bi-directional modalities. Pictured above, is the Alencon SPOT.