Solar Power International (SPI) 2015, being held Sept. 14-17 at the Anaheim Convention Center in Anaheim, California
MALVERN, Pa. — Sept. 1, 2015 — Vishay Intertechnology, Inc. (NYSE: VSH) today announced that the company will be highlighting its latest technologies and components at Solar Power International (SPI) 2015, being held Sept. 14-17 at the Anaheim Convention Center in Anaheim, California. Vishay's technology lineup at the event will include a wide range of MOSFETs, diodes and rectifiers, optoelectronics, passive components, and custom magnetics optimized to meet the high demands of solar applications.

In booth 230 at SPI, Vishay will showcase a wide variety of the company's newest components. Highlighted resistors will include Vishay Dale Power Metal Strip resistors with very high power ratings to 10 W, resistance values down to 0.0002 Ω, and tight tolerances to ±0.1 %. Also on display will be Vishay Dale precision thin film and thick film chip resistors with high power ratings to 22 W in case sizes from 0505 to 2512, Vishay Draloric high-voltage thick film resistors with voltage up to 500 V, and Vishay Techno thick film devices with wraparound or flip-chip terminations and voltages to 3 kV. Vishay Beyschlag high-voltage MELF resistors and Vishay high-voltage thin film chip resistors with voltage ratings to 1000 V will be on display for voltage detection, while Vishay Sfernice power resistors will be highlighted for discharge and snubber applications. Featured high-power grid resistors will include Vishay Milwaukee devices in IP00-, IP20-, and IP23-rated enclosures.
Film capacitors on display will include Vishay Roederstein metallized polypropylene film DC-link capacitors with capacitance up to 500 μF, snubber devices for direct IGBT and PCB mounting, and AC filtering capacitors, in addition to interference film devices offering high stability and humidity protection for X1, X2, and Y2 across-the-line applications. Highlighted inductors will include Vishay Dale low-profile, high-current IHLP inductors and through-hole devices with high operating temperatures up to +180 °C and excellent DC/DC energy storage at frequencies to 2 MHz and greater.
At SPI, Vishay will also be showcasing custom magnetic solutions, such as resonant and full-bridge switchmode transformers with high power ratings to 7.5 kV, switching frequencies <200 kHz, and low EMF. Featured custom magnetics will include inductors for filtering with inductance values to 1.5 mH and high current to 500 A, common-mode and differential-mode inductors featuring high power ratings to 1 MW and current to 1000 A, and three-phase grid tie inductors with inductance values to 700 μH and current to 500 A.
Vishay also offers a wide variety of semiconductor solutions for solar applications, including its E Series of high-voltage power MOSFETs built on superjunction technology for high-efficiency AC/DC power conversion in solar inverters, TMBS Trench MOS Barrier Schottky rectifiers for photovoltaic solar cell bypass protection, FRED Pt Gen 4 Ultrafast recovery diodes, opto-isolated IGBT/MOSFET drivers, high-speed 1- and 10-MBd optocouplers in small-footprint SMD packages for compact inverters, and >1414 V high-isolation optocouplers in widebody packages featuring >10 mm creepage/clearance for industrial solar inverters and smart grid applications.
Produced by the Solar Energy Industries Association (SEIA) and the Solar Electric Power Association (SEPA), SPI is the largest solar trade show in North America. More information is available at http://www.solarpowerinternational.com/.
Featured Product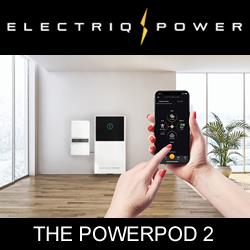 The Electriq PowerPod 2 is a fully-integrated home energy storage, management, and monitoring system powered by LFP batteries. The high-performance, cobalt-free product includes a hybrid solar/battery inverter controlled by intelligent software. The PowerPod 2 provides backup power and can self-consume or export excess power back to the grid.