Leading Solar Power and Clean Technology Companies to Hold Investor Meetings
NEWPORT BEACH, Calif.---ROTH Capital Partners (ROTH), www.roth.com, a full service investment bank focused on serving emerging growth companies and their investors, today announced that it will host its 3rd Annual Solar Symposium and Oktoberfest on Sep. 15, 2015 in Anaheim, CA, in conjunction with the Solar Power International Conference and Expo (SPI 15), the largest annual solar conference/expo in the U.S.

This event, co-located with SPI 15, will provide an opportunity for solar power industry executives, policy makers and key institutional investors to meet and exchange ideas about issues and trends in the solar and related industries. The event, which will be hosted by Jesse Pichel, Managing Director, Investment Banking, Cleantech and Industrial Growth, and Philip Shen, Senior Research Analyst, Cleantech, will include 1-on-1/small group meetings with ~20 companies and solar experts, a Keynote luncheon presentation by Christopher Mansour - VP of Federal Affairs of The Solar Energy Industries Association (SEIA) who will address the potential for an ITC extension and an Oktoberfest solar networking reception that will have ~100 leading solar company executives, and is expected to be widely attended.
According to Mr. Pichel, "2015 has been a volatile year for solar. The macro challenges in China and the steep decline in the price of oil has caused turmoil in energy markets and the markets overall. Despite the tumult, fundamental demand for solar in the U.S. and internationally remains strong. As costs systematically step down, markets are steadily transitioning from policy-dependence to grid parity."
Mr. Shen stated, "The volatility, in our view, presents opportunities for investors. We believe our symposium will enable investors to deeply explore the key issues facing the market today, including (1) Demand trends abroad and in the U.S. especially in 2017 and beyond; (2) Regulatory changes, including the potential for an ITC extension or the addition of commence construction language; (3) Industry utilization and pricing; and (4) The impact lower yieldco valuations may have on solar growth prospects. The symposium will also feature select emerging private solar companies."
We believe this event will enable participants to efficiently meet companies throughout the entire solar value chain - polysilicon, wafer, cell, module, downstream developers, private companies, and industry experts - in one of the most important solar markets in the world.
Participating Companies By the Time of This Release Include:
Amtech Systems Inc. ASYS
Canadian Solar Inc. CSIQ
Clean Power Finance PRIVATE
Daqo New Energy Corp. DQ
Enphase Energy, Inc. ENPH
Hannon Armstrong Sustainable Infrastructure Capital, Inc. HASI
Hanwha Q CELLS Co., Ltd. HQCL
Ideal Power, Inc. IPWR
JA Solar Holdings Co., Ltd. JASO
JinkoSolar Holding Co., Ltd. JKS
Meyer Burger Technology AG SWX:MBTN
ReneSola Ltd. SOL
RTS Corporation (Private) PRIVATE
Sky Solar Holdings, Ltd. SKYS
Solar Power, Inc. SOPW
Solar3D Inc. SLTD
SolarEdge Technologies, Inc. SEDG
TerraForm Global, Inc. GLBL
TerraForm Power, Inc. TERP
Tigo Energy PRIVATE
Trina Solar Limited TSL
Yingli Green Energy Holding Co. Ltd. YGE
(As of 09/02/2015 - subject to change)
"This event is another example of ROTHs dedicated efforts to continue its leadership in supporting both public and private solar companies from both investment banking capital transaction and advisory services as well as equity research," said Byron Roth, CEO of ROTH. "We are excited to once again support SEIA and co-host this event at SPI."
ROTHs Cleantech banking team has completed over 70 transactions since 2010 with an aggregate deal value of approximately $2.6 billion. (Source: ROTH Capital 09/02/2015)
ROTH is a founding member of CleanTech OC, a trade association that seeks to promote economic growth in the Orange County clean technology industry as well as a member of Solar Energy Industries Association (SEIA).
ROTH is also hosting an evening Oktoberfest networking event for registered guests and attendees.
Business Wire, Equisolve, Lowenstein Sandler, PVTech and SEIA are event sponsors.
The event is for institutional clients of ROTH and is by invitation only. Clients interested in attending should contact their ROTH sales representative at (949) 720-5700 or e-mail: conference@roth.com
Members of the media who would like to attend should contact Isabel Pain at 949-720-7117 or imattson-pain@roth.com. To learn more or register for SPI, please visit the event web site at - http://www.solarpowerinternational.com/
About Roth Capital Partners, LLC:
ROTH Capital Partners, LLC (ROTH), is a relationship-driven investment bank focused on serving emerging growth companies and their investors. As a full-service investment bank, ROTH provides capital raising, M&A advisory, analytical research, trading, market-making services and corporate access.
Headquartered in Newport Beach, Calif., ROTH is privately-held and owned by its employees, and maintains offices throughout the U.S. and Hong Kong. For more information on ROTH, please visit www.roth.com.
Featured Product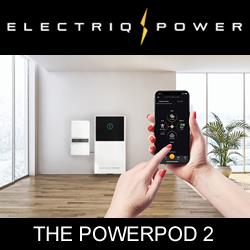 The Electriq PowerPod 2 is a fully-integrated home energy storage, management, and monitoring system powered by LFP batteries. The high-performance, cobalt-free product includes a hybrid solar/battery inverter controlled by intelligent software. The PowerPod 2 provides backup power and can self-consume or export excess power back to the grid.