Solar aftermarket provider creates new barrier system to increase safety and aesthetics for commercial and residential customers
SACRAMENTO (September 2, 2015) - SolaTrim, a leading solar aftermarket product provider, announced today the launch of a new technologically advanced Barrier System that is specifically designed for modern solar arrays. Crafted with the highest quality lightweight, coated aluminum and designed to maintain long-term structural integrity, the addition of SolaTrims barrier delivers the most optimal level of safety, aesthetics and effectiveness for both commercial and residential needs.

"Our intention with the launch of this innovative barrier system was to produce a product that first and foremost protected our customers while also providing a warranted modernized look for visual appeal," said Bill Lasell, SolaTrims co-founder and Operations Manager. "We strive to always provide residential consumers with affordable, attractive and dependable products that will maintain, protect and beautify renewable energy investment for generations to come," said Bob Smith, co-founder and President of SolaTrim LLC.
SolaTrims new innovative barrier system uses an advanced "peel & stick" adhesive to attach to solar panel frames, giving systems a clean appearance along with simple installation and permanent adhesion. Current wire-cage products require friction clips or mechanical fasteners in order to remain attached to solar panels. These can often fail under harsh weather conditions or long-term applications. Looking forward, as panel design becomes more streamlined and frameless modules are being introduced, wire-cage products will be left without an effective fastening system. SolaTrim can continue to be applied to solar modules even without frames. The proven adhesive used by SolaTrim has taken hold in other industrial applications such as aerospace, transportation and even has commercial underwater uses.
SolaTrim beautifies with a purpose. The two-fold benefit of SolaTrim - an aesthetic skirting that provides the finishing touch to rooftop panels, and life-of-the-system protection barrier from pests and debris - makes SolaTrim a secure addition to every system, built to maintain productivity for decades to come.
With the exponential growth of the solar industry, one of SolaTrims main goals is to continue to develop and manufacture Made in the USA solar aftermarket products that improve and support Americas Solar Initiative. SolaTrim plans to release additional products and systems that will shift the solar landscape in the near future.
For more information on SolaTrim, please visit www.solatrim.com.
Featured Product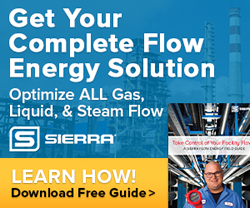 Download Flow Energy Guide - Written by Engineers For Engineers. Learn how to save on energy costs by optimizing your facility flows that impact costs like compressed air, natural gas, steam, and hot or chilled water.