geoAMPS is a leading provider of software solutions to increase efficiencies in alternative energy projects. Its position in the alternative energy market helped the Columbus, OH-area company make the Fast 50 list of fastest growing companies in Central Ohio for 2015.
geoAMPS, a provider of software solutions to increase efficiencies in the development, operation and maintenance of alternative energy projects, has been named to the Fast 50 list of fastest growing companies in Central Ohio.

Fast 50 is an annual awards program organized by Columbus Business First, the leading weekly business newspaper serving Central Ohio. This year marks the 20th anniversary of the newspaper's awards program.
Laura Newpoff, Assistant Managing Editor-Digital for Business First, said the newspaper received a record 125 nominations from companies that have seen a surge in sales over the past three years.
"All of us at geoAMPS are honored to be named one of the Fast 50 of Central Ohio," Yogesh Khandelwal, President and Chief Executive Officer of geoAMPS, said. "We want to thank Columbus Business First for organizing this awards program which recognizes companies in the region that are new or experiencing rapid growth.
"This award is one that is shared by each member of our geoAMPS team," he added. "It is because of their dedication and commitment to providing quality products and services that geoAMPS has enjoyed dramatic growth in a short period of time."
Located in Powell, geoAMPS was founded in 2011. It serves customers throughout the United States and Canada and has become the premier provider of software solutions to manage land rights and infrastructure assets. geoAMPS clients include companies that are leaders in the alternative energy industry.
Among its software products is altAMPS, which improves efficiencies in maintenance and operation of alternative energy infrastructure by utilizing a Web-based project- and asset-tracking system. The Web platform's dashboard-focused interface gives users easy and secure access to the centralized database. Information is available collaboratively across the organization. Workers in the field can communicate, access information and upload data on mobile devices. GIS is available. altAMPS automates many tasks, such as turbine siting and royalty payment calculations. All project information from landowners, SCADA systems, to meteorological tower data is securely stored in a single application.
altAMPS also meets the needs of development and operation of one or more solar panel fields. Developing and maintaining solar panel fields oftentimes require workers to travel many miles from the company office. Without the proper technology, valuable time can be wasted on travel to and from the office or from project to project. altAMPS provides an answer that increases workflow efficiencies. Workers in the field can access and upload information on their mobile devices. Detached/offline and sync-on-demand capabilities provide database access in remote areas lacking Internet connectivity.
With altAMPS, organizations gain automatic alerts of inspection and maintenance schedules. It is software that helps the organization automate and standardize their processes, and greatly enhance efficiencies.
altAMPS is the market-leading software for other renewable energy industries, such as biomass and geothermal. No matter the industry or the project, all project information, including landowners and infrastructure improvements, is securely stored in a single application.
"Our position in the alternative energy market has helped us make the list of the fastest growing companies in Central Ohio," Yogesh said.
The number of geoAMPS employees has grown from two its first year to 41 today. In response to the company's rapid growth, the decision was made to move to a larger location. geoAMPS remained in Powell, but moved in early 2014 into an office that is more than double the square footage of its original location.
Want to learn more about how geoAMPS can benefit your alternative energy organization? Visit www.geoamps.com or call 614-389-4871.
Dan Liggett is Communications and Public Relations Manager for geoAMPS. For more information about geoAMPS products and services, visit www.geoamps.com or call 614-389-4871.
Featured Product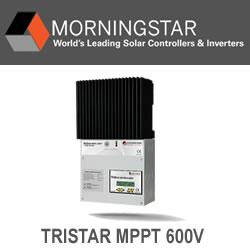 Morningstar's TriStar MPPT 600V charge controller leverages Morningstar's innovative TrakStar™ MPPT technology and our 20+ years of power electronics engineering excellence, to enable the widest input operating voltage range available from a solar array, wind turbine or hydro input. This controller's standard and DB versions are for off-grid applications, and the TR versions were developed to enable retrofitting grid-tied systems with battery backup.