Designed by SmithGroupJJR, Chu Hall will house world-changing research to foster development of fuels from sunlight
Berkeley, Calif., September 11, 2015 - The recently completed $59 million Solar Energy Research Center has opened at the U.S. Department of Energys Lawrence Berkeley National Laboratory (Berkeley Lab). Officially renamed Chu Hall after former U.S. Department of Energy Secretary and Berkeley Lab director Steven Chu, the building was designed by SmithGroupJJR.

Chu Hall is Berkeley Labs latest addition to a collection of buildings that create a hub of interactive and collaborative research. Situated in its Old Town neighborhood, the new 39,000-square-foot, three-story building is the new home for 100 researchers, most from the Department of Energy-funded Joint Center for Artificial Photosynthesis (JCAP), the nations largest research program dedicated to the development of an artificial solar-fuel generation technology. Previously, the JCAP researchers worked in a leased space in West Berkeley. In addition to JCAP researchers, the building also houses the administrative offices of the Kavli Energy NanoSciences Institute, which explores energy science and nanomaterials.
Chu Hall has three architectural components, each situated on one of the buildings three levels.
Level 1 is the subsurface "Plinth," which takes up more than 50 percent of the overall square footage and designed to be an ultra-low vibration space to house laboratories sensitive to light and vibration.
Level 2, located on the ground level, is the "Breezeway." Designed to foster interdisciplinary interaction, it is the location for the main door and entrance lobby, shared office space for principal investigators, cubicles for Theory researchers and small and large conference rooms.
Level 3 is the "Corona," a simple rectangular form that houses wet lab spaces as well as research to develop technology needed to assemble nanoscale components into active systems.
Outside, a new courtyard space serves as a central meeting point used by Chu Hall researchers as well as those from nearby labs in the Old Town neighborhood.
"Activity areas and an open, flexible office environment at the center of the facility create opportunities for scientific collaboration and interaction both in and outside of the laboratory environment. The new building provides a state-of-the-art facility that meets all of the specialized laboratory requirements needed to support the development of artificial solar-fuel generation technology," said Suzanne Napier, AIA, LEED AP BD+C, SmithGroupJJR principal in charge and leader of the firms Science & Technology Studio in San Francisco.
Following Chu Halls mission to "create sustainable, carbon-neutral sources of energy," the design and construction of the building voluntarily responded to the Department of Energys mandate of 30% energy savings based on ASHRAE 90.1. LEED Gold certification is targeted.
Mechanical energy-efficient features and sustainable design elements include runaround heat recovery, which in the winter utilizes the buildings waste heat energy to heat the outside air brought into the building and in the summer cools it; high-efficiency condensing boilers; high-efficiency chillers with variable frequency drives; evaporative pre-cooling hybrid system; and individual office VAV terminals with switch for window interlock - essentially, a mechanical systems that knows when a window is open in the office floor.
Lighting energy and water conservation measures are significant at Chu Hall. A narrow building footprint on levels 2 and 3 with abundant windows and skylights allows for daylight to enter and minimizes lighting consumption. LED lighting and energy efficient lighting, lighting controls-light sensors for occupancy and daylight sensors are used, along with daylight harvesting with lights that dim when sufficient daylight is available. Water consumption is reduced 30% with energy-saver plumbing fixtures, water efficient landscaping with an efficient, drip irrigation system, and drought resistant plant selection.
Other sustainability features of Chu Hall include a green roof at the north and south portions of level 1 to provide thermal insulating qualities and minimize heat gain, along with an east-west axis with the smallest façade facing south. Energy efficient, low-E glazing is used on the exterior. Onsite development was reduced by using adjacent parking, allowing minimized paved areas and more native plantings.
Renewable energy sources include solar hot water panels for domestic, hot water heating. Photovoltaic panels power electrical outlets in offices on level 3.
The $59 million construction project was funded by the University of California, the California Public Utilities Commission and appropriations from the State of California, along with private support.
SmithGroupJJR, San Francisco, provided architecture, interior architecture, master planning and programming services for Chu Hall. McCarthy Building Companies, San Francisco, served as general contractor.
SmithGroupJJR (www.smithgroupjjr.com) is a recognized integrated architecture, engineering and planning firm ranked Top 10 in the U.S. The firms nationally recognized Science & Technology Practice has completed the planning and design of over 25 million-square-feet of academic, corporate and government research laboratories across the U.S. Notable science and technology projects recently completed include the $95 million Electrical and Computer Engineering Building for the University of Illinois at Urbana-Champaign and the $135 million Energy Systems Integration Facility for the U.S. Department of Energys National Renewable Energy Laboratory, named 2014 Lab of the Year by R&D Magazine. A national leader in sustainable design, SmithGroupJJR has 370 LEED professionals and 127 LEED certified projects.
Featured Product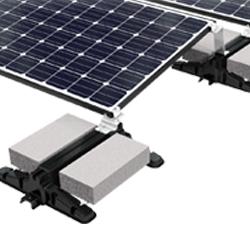 Preformed Line Products introduces the POWER MAX Ballasted Roof Mounting System. The POWER MAX solar mounting system is engineered to maximize energy output on commercial flat roofs. Developed with the professional installer in mind, this system offers adjustable inter-row spacing in the field of up to 11 inches. It features 50% fewer components and a simplified design resulting in faster assembly rates and labor savings on every project. Available in a flush mount, 5˚ or 10˚ tilt or higher density dual tilt design, the POWER MAX base arrives stacked on pallets providing easier transport to the roof. Engineered as a fully ballasted, non-penetrating system, it accepts standard concrete blocks and is qualified by wind tunnel testing.