Sept. 15-17 at the Anaheim Convention Center in Anaheim, California
(Valley Forge, Pa.) - Its time for Solar Power International (SPI), and CertainTeed is ready to energize attendees with a new exhibit featuring its next generation solar roofing systems. Visitors to SPI, which takes place Sept. 15-17 at the Anaheim Convention Center in Anaheim, California, will find CertainTeed at booth #5329 displaying products that include the newly-enhanced Solstice®, CertainTeeds rack-mounted PV system, and the popular Apollo II and Apollo Tile II integrated PV systems.

"In a market where many companies are just getting started, CertainTeed has been a driving force behind roofing innovation for more than 100 years," says Mark Stancroff, director of CertainTeed Solar. "For SPI 2015 we are going all out with a product showcase that offers visitors a hands-on look at our complete line of solar products."
Stancroff added that CertainTeed offers one of most robust warranties in the industry, covering both the system and its installation when the setup is performed by a CertainTeed Credentialed Solar Installer. If the homeowner also has a CertainTeed roof, everything on the roof is warrantied by one company, providing confidence to homeowners that their most valuable asset - their home - is protected. In addition to being the only manufacturer to provide a comprehensive roof and solar warranty, CertainTeed provides leads and marketing support to help its credentialed installers grow their businesses.
Solstice, CertainTeeds rack-mounted solar solution, is outfitted with high-performance panels, inverters, racking and flashing. Solstice utilizes CertainTeeds 60-cell monocrystalline or polycrystalline panels with power ratings from 260W to 285W. These modules are available in a variety of black and white frame and backsheet combinations and can be paired with string or microinverters, offering flexibility to fit the needs of any installation.
CertainTeeds Apollo II solar roofing system features 60-watt monocrystalline integrated PV panels, combining greater efficiency and unmatched aesthetics with easy wiring and installation. Its black frame, cells and backsheet and low profile design fully integrate with asphalt roofing shingles for a clean, seamless appearance. Weighing only 12 pounds, Apollo II does not require structural reinforcement or evaluation and is attached directly to the roof sheathing. It has a Class A fire rating and 110 mph wind rating.
CertainTeed offers Apollo Tile II for integration with flat, concrete tile roofs. It weighs in at only 13-pounds per module and features a natural brown frame, black cells and black backsheet for extraordinary curb appeal. Apollo Tile II also carries Class A fire and 110 mph wind rating.
For more information about CertainTeed Solar, visit www.certainteed.com/roofing/solar.
About CertainTeed
Through the responsible development of innovative and sustainable building products, CertainTeed, headquartered in Valley Forge, Pa., has helped shape the building products industry for more than 110 years. Founded in 1904 as General Roofing Manufacturing Company, the firm's slogan "Quality Made Certain, Satisfaction Guaranteed," quickly inspired the name CertainTeed. Today, CertainTeed® is North Americas leading brand of exterior and interior building products, including roofing, siding, fence, decking, railing, trim, insulation, gypsum and ceilings.
A subsidiary of Saint-Gobain, one of the worlds largest and oldest building products companies, and celebrating its 350th anniversary, CertainTeed and its affiliates have more than 5,700 employees and more than 60 manufacturing facilities throughout the United States and Canada. For six consecutive years, the company has received top honors from the U.S. Environmental Protection Agency for its contributions in protecting the environment and was most recently the recipient of the 2014 ENERGY STAR Sustained Excellence Award. The group had total sales of approximately $3.3 billion in 2014. www.certainteed.com
Featured Product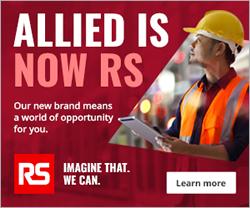 Imagine a global, end-to-end partner for industry - dedicated to solving your problems so you can drive your business forward. We can. On February 6, 2023, we officially changed our name to RS. It's just one way we're evolving to make our partnership and doing business with us even more rewarding. As RS, you have access to more support, more expertise, and more possibilities for your big and small projects - from concept and design to build and maintenance. Going forward, you'll see the RS logo on our website, social media, communications, and packaging. And rest assured, our current systems and procedures will remain intact to seamlessly process your order.