Redflow, the Australian provider of energy storage flow batteries, has announced that it has decreased its zinc-bromide battery (ZBM) cost by 50% through technology improvements and a stronger manufacturing relationship with Flextronics. The company is now able to offer its naked ZBM product at a cost of US$20c per kWh throughput, down from US$48c just 6 months ago. With this dramatic reduction, energy from Redflow's ZBM product drops below grid price.
"We are pleased to announce substantial enhancements to our ZBM electrode lifetime expectations, manufacturing warranty and base pricing. Our ZBM battery is now the best priced energy storage product in the market and today's price per kWh is a game changer that should generate substantial amounts of interest among customers. We have received orders for ZBM products from Europe and Australia, with further progressive orders expected," commented Redflow's Chairman, Simon Hackett.

Redflow has already outsourced the majority of the manufacturing process for its key product, the ZBM, to global scalable manufacturing specialist Flextronics in North America. The ZBM electrode, which is currently still being manufactured in Brisbane, will now also be outsourced to Flextronics.
Following substantial R&D work over the last 12 months, Redflow has started the transition to the use of its latest electrode surface coating, ACN13, in its production batteries. The use of ACN13 in production will be integrated with the outsourcing of electrode manufacturing to Flextronics. In-house testing has shown a substantial improvement in physical operating characteristics and projected lifetime thanks to the new materials.
To allow for the full outsourcing to be completed efficiently, and to maximise the benefits of the transition to ACN13, the production rate of ZBM products by Flextronics will be substantially reduced until the full electrode outsourcing process is concluded. Operating cost reductions in Brisbane have been realised with manufacturing in Brisbane reducing.
"These enhancements build upon the continued success of our battery testing programme, our migration to ACN13, and continued progress in reducing the manufacturing cost of our products," said Hackett.
The recommended retail price for the ZBM2 (10kWh) and ZBM3 (11kWh) products has been reduced significantly to US$8,000 (16% reduction) and US$8,800 (10% reduction) respectively. Wholesale product pricing is negotiated with system integrators based on their requirements and volume commitments. As a result of these improvements, the nominal levelised cost of energy (LCOE) for the delivery of energy from ZBM2 and ZBM3 batteries has fallen by over 50% to US$0.20/kWh using the expected 40,000 kWh electrode stack lifetime.
What's more, thanks to the increased lifetime of ACN13, Redflow has improved the manufacturing warranty on its ZBM products to 10 years, or their standard warranted energy throughput, whichever comes first. The electrode energy warranty applies specifically to the electrode stack, with the balance of the ZBM modular component set maintaining a one-year warranty against manufacturing defects. Redflow is now pleased to offer this improved warranty on all new ZBM2 and ZBM3 product sales.
For more information please visit www.redflow.com
Featured Product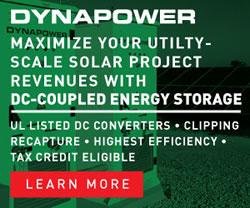 The addition of energy storage to an existing or new utility-scale PV installation allows system owners and operators the opportunity to capture additional revenues. Traditional storage plus solar applications have involved the coupling of independent storage and PV inverters at an AC bus or the use of multi-input hybrid inverters. An alternative approach - coupling energy storage to PV arrays with a DC-to-DC converter - can help maximize production and profits for existing and new utility-scale installations. DC-Coupled Utility-Scale Solar Plus Storage leads to higher round-trip efficiencies and lower cost of integration with existing PV arrays and at the same time, opens up new revenue streams not possible with traditional AC-coupled storage, including clipping recapture and low voltage harvesting, while being eligible for valuable tax incentives.