7 MW energy storage facility to improve power quality for local utility
CHICAGO, September 15, 2015 - S&C Electric Company, a global leader in energy storage integration, announced today it was awarded a new project by Half Moon Ventures (HMV) to supply and build a 7 MW energy storage facility. The project will be located in Minster, Ohio and is being built in conjunction with the local municipal utility, the Village of Minster. Once complete, the project will be one of the largest energy storage systems in Ohio.

HMV and the Village of Minster will benefit from four unique revenue streams, which will offset the costs of grid improvements while improving the rate of return. HMV will be able to sell into PJMs frequency regulation market, which helps to provide grid reliability for more than 60 million customers. The Village of Minster will use the energy storage system to defer T&D costs, improve power quality and shave peak demand.
"Revenue stacking is one of the quickest ways to create a strong return on investment for energy storage systems," says Troy Miller, director - Grid Solutions, S&C Electric Company. "In the case of the Minster project, we are seeing one of the first examples of how a municipal utility can work with a developer to create multiple revenue streams that benefit both parties, and we expect to see more projects like this in the future."
HMV will use S&Cs 7 MW PureWave SMS Storage Management System, providing fully integrated storage management and power conversion for 3 MWh of lithium ion-batteries. The system will help Minster better manage energy demand during peak periods and provide reliable back-up power, while deferring the acquisition of costly reactive power compensation equipment. The system will also be tied to HMVs adjacent 4.2 MW solar plant, allowing Minster to further reduce their peak demand charges in the middle of the day. Once complete, the solar + storage system will be the largest U.S. facility of its kind connected through a municipal utility.
"With the new system, we are able to improve reliability and capacity while leveraging renewable energy sources without costly investments into grid expansion," says Michael Hastings, CEO, HMV. "S&C helped us prove that multiple revenue streams in energy storage deployments can help solve our customers financial and operational needs."
In addition to the SMS, S&C is supplying their 15-kV Vista Underground Distribution Switchgear to provide protection and control between the storage system and the grid. S&Cs scope of work will include all major power system studies as well as the complete engineering, procurement and construction for the project.
About S&C Electric Company
S&C, with global headquarters in Chicago, USA, is applying its heritage of innovation to address challenges facing the worlds power grids and is thus shaping the future of reliable electricity delivery. The mission of employee-owned S&C is to continually develop new solutions for electricity delivery, fostering the improved efficiency and reliability required for the intelligent grid. Additional information about S&C is available at www.sandc.com.
About Half Moon Ventures
Half Moon Ventures, LLC (HMV) is a full service renewable energy provider. The HMV team has contributed to more than 2,000 megawatts of wind and solar energy projects around the world. From development through operations, HMV designs, builds and operates custom energy systems to meet the needs of large commercial property owners, educational institutions, corporations and other organizations. HMVs focus includes project origination, development, project finance and long-term ownership and operation.
Featured Product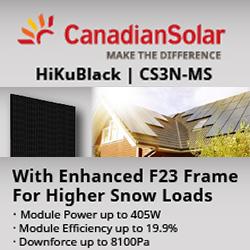 Aesthetic appearance for residential systems: With black backsheet & black frame, Power range 380 ~ 405 W, Low power loss in cell connection. Enhanced reliability: · Low temperature coefficient (Pmax): -0.34 % / °C, LID LeTID less than 2.0%, Lower hot spot temperature, Better shading tolerance.