75-megawatt project with H2air/ French energy turnaround picking up speed
HAMBURG, Germany--Together with its project partner H2air, Nordex has officially opened its largest wind farm in France to date. The 75-megawatt "Seine River Gauche Nord" ("SRN") project is something of a trendsetter for the French energy market in view of the targets set by the French government for extending the use renewables: by 2020 the share of renewables in the power supply is to increase to 23 percent and to as much as 32 percent by 2030.

"France is a market with great potential for the future. With our 'SRN' project we have once again demonstrated that we are well able to meet the requirements of this market, in which we have been operating for more than 15 years. Our local partners in France now know that thanks to our experience we can also implement even the most complex projects with them," says Nordex CEO Lars Bondo Krogsgaard.
Nordex completely developed "SRN" together with H2air and has set it up on a turnkey basis for the investor KGAL Investment Management. In addition to civil engineering work and connection to the grid including a private substation, this also involved obtaining approvals, which in this case meant coordinating with the French military. "SRN" is located in the North of France in the département of Aube, near the military radar station of Prunay-Belleville. The project partners have installed the 30 N100/2500 turbines in a special version designed so as not to interfere with operation of the radar station.
"It was the first time we co-developed a project with Nordex, and this collaboration has been very successful. Our skills and expertise were pooled to create a large scale wind farm that ranks as the third in France in terms of electrical capacity," said H2air Group Management Board member Roy Mahfouz. The wind farm has been in operation since June. With an annual output of 183 gigawatt hours and a capacity factor of around 30 percent, it is able to supply up to 50,000 households with green electricity. Now that the French government has agreed on the aforementioned targets for expansion, the demand in France for projects like "SRN" is very likely to increase.
Featured Product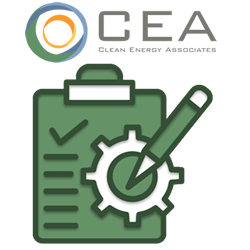 Clean Energy Associates provides a complete quality assurance solution that covers the entire product lifecycle of PV modules, storage systems, and every Balance of Sy stem (BOS) component. CEA's experienced on-the-ground and international team of quality control engineers and account managers offer an unparalleled quality assurance presence that can protect solar and storage investments and ensure future energy-producing viability for the life of the product.