Local leaders welcomed REG to the area business community.
ABERDEEN, Wash.--Renewable Energy Group, Inc. (NASDAQ: REGI) celebrated the formal opening of the newest addition to its fleet of biomass-based diesel refineries Monday afternoon with a ribbon cutting at REG Grays Harbor, LLC.

REG leaders were joined by state and local business, government and community leaders for the ceremony marking the transition to REGs ownership of the former Imperium Grays Harbor 100-million gallon nameplate capacity biodiesel production and terminal facility.
"REG Grays Harbors addition to REG is a significant milestone for our company," said Daniel J. Oh, President and CEO, noting that the plant is the Companys 11th, and now largest, biorefinery and its first west coast production facility. "The transition has been seamless thanks to the dedicated employees here and to other teams within our company."
Oh also thanked local government leaders in Hoquiam and Aberdeen for working with the Company during the transition and praised the work of Washingtons congressional delegation and Governor Jay Inslee for being champions of advanced biofuels.
Gary Haer, Vice President, Sales and Marketing, told the crowd that production at the Grays Harbor biorefinery will aid REGs efforts to grow biodiesel sales along the west coast region. "We can now serve customers and expand sales of high quality REG 900™ fuel in Washington, Oregon, western Canada as well as increase sales throughout California to meet LCFS demand," Haer said. "And with the multi-modal capabilities at the terminal and port, we increase our flexibility to fulfill orders via the use of truckload, rail car, or Panamax class tanker shipments."
Local leaders welcomed REG to the area business community. "Today marks the beginning of an exciting new chapter for biodiesel production in Grays Harbor," said Dru Garson, CEO of Greater Grays Harbor, Inc. "Were excited by the prospects of having REG as a community partner, as their track record of operating plants and re-investing in the community is impressive."
In addition to its production capacity, REG Grays Harbor has 18 million gallons of on-site storage and a terminal that can accommodate feedstock intake and fuel shipments by truck, rail and deep-water vessel. The plant employs 39 full-time employees.
NOTE: A video news release for the event can be accessed here https://youtu.be/E8DmZ9LKoc8.
About Renewable Energy Group
Renewable Energy Group, Inc. is a leading North American advanced biofuels producer and a developer of renewable chemicals. REG utilizes a nationwide production, distribution and logistics system as part of an integrated value chain model to focus on converting natural fats, oils and greases into advanced biofuels and converting diverse feedstocks into renewable chemicals. With 11 active biorefineries across the country, research and development capabilities and a diverse and growing intellectual property portfolio, REG is committed to being a long-term leader in bio-based fuels and chemicals.
For more than a decade, REG has been a reliable supplier of advanced biofuels which meet or exceed ASTM quality specifications. REG sells REG-9000 biomass-based diesel to distributors so consumers can have cleaner burning fuels that help diversify the energy complex and increase energy security. REG-9000 biomass-based diesel is distributed in most states in the US. REG also markets ultra-low sulfur diesel and heating oil in the northeastern and midwestern US. For more information on REG visit our website at www.regi.com.
Featured Product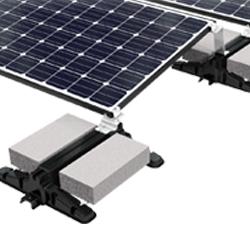 The Power Rail™ Commercial Mounting System is designed with the professional PV solar installer in mind. Both the XD/UD and LD/MD rails feature single tool assembly with the revolutionary patented RAD™ Lock-in-Place bolt for fast and secure module clamping. The high strength marine-grade aluminum rails include an integral wiring channel for securing cables and providing a professional finish.