The research institute is leading the project to evaluate how net-zero energy homes that generate and store their own energy impact the local electricity grid.
BELMONT, Calif., Sept. 16, 2015 -- SunEdison, Inc. (NYSE: SUNE), the largest global renewable energy development company, today announced that it is supplying advanced battery systems in a project to build 9 net-zero energy homes in Fontana, Calif. The project is led by the Electric Power Research Institute (EPRI), with the support of the California Public Utilities Commission, and lead project partners major national homebuilder Meritage Homes and local utility Southern California Edison.

The research institute is leading the project to evaluate how net-zero energy homes that generate and store their own energy impact the local electricity grid. This project is important for future grid planning because under the California Public Utilities Commission's Energy Efficiency Strategic Plan, California aims to have all new homes be net-zero starting in 2020, and all new commercial buildings by 2030.
"With this project, we're pioneering solutions that will help Californians prepare for the future of the grid, where homes and businesses will be generating their own electricity on a much greater scale than we're seeing today," said Tim Derrick, SunEdison's general manager of Advanced Solutions. "By installing SunEdison's advanced battery systems on these net-zero energy homes, we're able to store solar-generated electricity and better manage the interactions of that electricity with the grid."
"EPRI is leading this project to gain insights into how a community of net-zero homes interacts with the local grid," said Ram Narayanamurthy, EPRI's project lead. "We're using advanced controls and energy storage to manage these mini, distributed power plants that are expected to play a much larger role in the grid of the future."
"Meritage Homes is excited to participate in this pivotal project," said C.R. Herro, Meritage Homes' vice president of Energy Efficiency and Sustainability. "Net-zero energy homes will be energy efficient, more cost effective to run, and have backup power in the event of a power cut."
SunEdison designed the advanced battery system, and partnered with Eguana Tech, LG Chem and Geli for this project, and will monitor and control the system to optimize the energy savings and load profile.
Meritage Homes has already started construction on the homes and expects to complete the first homes by the end of September.
Further information about the project is available at: http://www.meritagehomes.com/search/southern-ca/sierra-crest-the-grand-canyon-collection.
About SunEdison
SunEdison is the largest global renewable energy development company and is transforming the way energy is generated, distributed, and owned around the world. The company develops, finances, installs, owns and operates renewable power plants, delivering predictably priced electricity to its residential, commercial, government and utility customers. SunEdison is one of the world's largest renewable energy asset managers and provides customers with asset management, operations and maintenance, monitoring and reporting services. Corporate headquarters are in the United States with additional offices and technology manufacturing around the world. SunEdison's common stock is listed on the New York Stock Exchange under the symbol "SUNE." To learn more visit www.sunedison.com.
Featured Product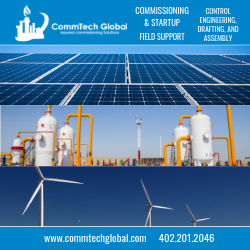 CommTech Global Solutions, LLC, provides professional and reliable commissioning services to customers in all realms of the energy industry. We blend our skills in engineering and technology with innovative business models, offering a complete range of services to assist you for a successful and in compliance operational startup. Consolidation of all our service domains gives our clients a comprehensive set of expertise and far-reaching experience on each project.