- Photovoltaic module Q.PLUS-G4 270-280 Wp voted No.1 in the category "Module Manufacturing Innovation" - Winning module has been nominated by the award's panel in order to credit Q CELLS' Q.ANTUM technology - "Solar Industry Award" is being awarded in 13 categories / solar industry decides the winners through an open 2-month voting process
SEOUL, South Korea, Sept. 18, 2015 -- Hanwha Q CELLS Co. Ltd. ("Hanwha Q CELLS" or the "Company") (NASDAQ: HQCL) , one of the world's largest providers of high efficiency photovoltaic modules, has received the "Solar Industry Award 2015" in the category "Module Manufacturing Innovation." The award was handed over to Jorg Muller, Head of cell R&D at Hanwha Q CELLS, during the official Solar Industry Award ceremony in Hamburg, Germany, on Tuesday, September 15, 2015.

The polycrystalline solar module Q.PLUS-G4 with power classes up to 280 Wp has been ranked as the No 1 module manufacturing innovation by the around 70,000 voters who participated in the two-month online voting process which is open to representatives of the entire industry. The innovative solar module Q.PLUS-G4 has been nominated and shortlisted by the awards' panel of judges in order to credit the innovative Q.ANTUM technology -- a complex cell architecture for maximum energy yield under real conditions. It has been developed by Hanwha Q CELLS and is the center technology of Q CELLS' current module portfolio, including the award winning Q.PLUS-G4.
"We are delighted to receive the "Solar Industry Award 2015" for our Q.ANTUM technology -- especially since our product has been picked and voted No 1 without having been entered by our company," said Jorg Muller of Hanwha Q CELLS during the award ceremony. "Winning the "Solar Industry Award 2015" is further strong and independent confirmation that our Q.ANTUM products provide leading yields to PV customers under real conditions. We'd like to thank the award organizers for shortlisting Q.ANTUM and all the voters out there for appreciating our innovation."
Jackie Cannon, Director Publishing at Solar International and organizer of the "Solar Industry Awards," said: "The voters from all over solar industry have confirmed that our panel of judges' choice to nominate the Q.PLUS-G4 solar module and its Q.ANTUM technology was right. Our congratulations to Hanwha Q CELLS for providing module manufacturing innovation that has the potential to change the way we live."
Q.ANTUM: high efficiency cell technology for maximum energy yield under real conditions
Q.ANTUM is the center technology of the Q CELLS brand's current module portfolio. Based on a rear-side passivation of the solar cell and including many additional technological features, it improves power output, low-light and temperature-behavior, while at the same time offering all of Q CELLS' quality standards like Anti PID protection, Hot-spot protect, Tra.Q laser marking, VDE quality tested and the additional Q CELLS quality program. Q.ANTUM reaches record efficiencies for multicrystalline solar cells of over 20% and has been invented, developed and implemented in international mass production by Hanwha Q CELLS.
About Solar Industry Awards
The Solar Industry Awards are being organized by Solar International. They have been created in 2008 to recognize the whole value chain of solar industry and those people, products and services that will develop innovative manufacturing and product approaches that have the potential to change the way we live. Solar Industry Awards are being awarded in 17 different categories and are the only solar awards where the industry itself decides over the winners through a two-month online voting. Find out more at: www.solarinternationalawards.net
About Hanwha Q CELLS
In February 2015 Hanwha Q CELLS Co., Ltd. (NASDAQ: HQCL) emerged as a new global solar power leader from combining two of the world's most recognized photovoltaic manufacturers, Hanwha SolarOne and Hanwha Q CELLS. The combined company is listed on NASDAQ under the trading symbol of HQCL. It is headquartered in Seoul, South Korea, (Global Executive Headquarters) and Thalheim, Germany (Technology & Innovation Headquarters) and is the world's largest solar cell manufacturer as well as one of the largest photovoltaic module manufacturers. Due to its diverse international footprint including facilities in China, Malaysia, and South Korea, Hanwha Q CELLS is in a unique position to flexibly address all global markets, even ones with import tariffs, such as the United States and the European Union. Based on its well respected "Engineered in Germany" technology, innovation and quality, Hanwha Q CELLS offers the full spectrum of photovoltaic products, applications and solutions, from modules to kits to systems to large scale solar power plants. Through its growing global business network spanning Europe, North America, Asia, South America, Africa and the Middle East, the company provides excellent services and long-term partnership to its customers in the utility, commercial, government and residential markets. Hanwha Q CELLS is a flagship company of Hanwha Group, a FORTUNE Global 500 firm and a Top-Ten business enterprise in South Korea. For more information, visit: http://investors.hanwha-qcells.com
Featured Product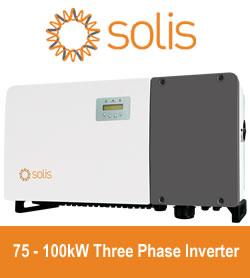 Solis75kW - 100kW series high-power string inverters are widely used in industrial and commercial rooftops. Solis's new three-phase string inverter is the first choice for industrial and commercial photovoltaics. 75-100kW three phase series string inverter have Maximum 28 strings input, support "Y" type connection in DC side. Maximum string input current 13A, support bifacial modules access.Supports anti-PID function to improve system efficiency.