Full Scale Model of Habitat to Showcase at RUK 2015
A year on from launching its revolutionary blade maintenance habitat at Renewable UK, GEV Wind Power's cost-saving innovation has secured its UK patent and, from SGS BASEEFA, its certification (IPX5) for the waterproofness of its Habitat's seal.

Returning to Renewable UK 2015 on 6-8 October (Stand No 142), GEV Wind Power, one of Europe's leading maintenance companies, will showcase a range of innovations designed to reduce maintenance costs in the wind energy sector.
Alastair Gadney, GEV Wind Power's projects director comments: "The last year has been a whirlwind in the development of our Habitat. From launching at RUK last November, we have secured our UK patent and generated a huge amount of interest from OEM and owner operators alike. We have also developed the I-RIS App to assist blade technicians in their reporting and subsequently are able to offer a very competitive fixed pricing structure.
"We were delighted that our Habitat was a finalist in this year's EEEGR* Innovations Awards and winner of the EIC Innovation Awards in Glasgow earlier in the year."
Visitors to stand No 142 will see a full scale model of the Habitat, see a live demo of the I-RIS App and learn more about the other money saving initiatives offered by GEV, including the Panoblade camera and fixed priced maintenance plan.
GEV's bespoke maintenance reporting cloud-based App, I-RIS (Intuitive Reporting and Inspection System), is set to transform existing clumsy paperwork maintenance reporting. Mounted on a technician's iPad, it enables near real-time reporting to benefit both client and provider. This significantly improves the efficiency of reporting and reduces time lag and transcription errors associated with legacy processes.
The Panoblade camera rapidly captures high resolution images of an entire turbine blade surface, alleviating the need for 'hands on' inspection. It is already being used in the field by GEV Wind Power clients and has recently been used to inspect over 70 offshore turbines in less than three weeks.
Alastair Gadney concludes: "Our pioneering Habitat has the potential to mitigate any of the planned maintenance days impacted by adverse temperature and precipitation. An exercise carried out by GEV last year highlighted that had the Habitat been available, an increase of at least 1.5% in annual energy production could be achieved for the field owner. Innovation will be key to the success of the UK's offshore wind industry and at GEV we are striving to play a leading role in the success of this fast moving industry."
Featured Product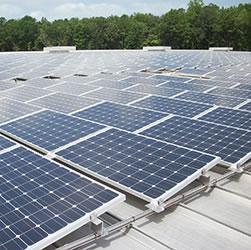 The Power Rail™ Commercial Mounting System is designed with the professional PV solar installer in mind. Both the XD/UD and LD/MD rails feature single tool assembly with the revolutionary patented RAD™ Lock-in-Place bolt for fast and secure module clamping. The high strength marine-grade aluminum rails include an integral wiring channel for securing cables and providing a professional finish.