3rd Annual LatAm HR in Energy, taking place on 23-24 September at Windsor Atlantica Hotel, Rio De Janeiro - Brazil, focuses on the HR challenges being faced by the region's energy industry.
24 Sept 2015, Rio De Janeiro: The 3rd Annual LatAm HR in Energy commenced yesterday at Windsor Atlantica Hotel, Rio De Janeiro - Brazil. The conference, revolving around the central theme of "Redefining the Energy Industry through HR Innovation", witnessed senior HR professionals from the region's leading energy companies discuss the rapidly changing human resource roadmap of Latin America.

The conference, supported by ABRH - RJ, started off with an inaugural keynote address by Francisco Ibiapina, Executive Secretary at the Ministry of Labor and Employment, Brazil.
The initial sessions, consisting of speaker-presentations, case-studies and panel discussion, focussing on HR strategies during economic crisis, saw speakers from Statoil, Vale, SBM Offshore, Priority Pass and Odebrecht Oil & Gas . HR strategies to increase output with minimum resources, was the prime focus of the panel discussion.
"The Global Human Capital trends in the Energy and Resources industry", was elaborated by a joint-presentation from Stavros Demetriou, Senior Manager - National Workforce Analytics and Planning Leader Canada and Juan Vargas, Senior Manager - Human Capital at Deloitte Consulting Group. Deloitte participated at the conference as the Silver Sponsor.
Post lunch, presentations from Wartsila, Odebrecht Oil & Gas and SBM Offshore addressed the audience on the steps towards leadership growth and succession planning. The first day of the conference concluded with a panel discussion focusing on "Role of HR in an Organisation During a Business Slow Down."
Today, the second day of the conference, will witness intriguing presentations from expert speakers from Electrobras, Petrobras, Elektro, Halliburton, Maersk Training, Companhia Siderúrgica Nacional and Petroleos de Venezuela S.A among others
Thiago Cardoso, Principal at The Boston Consulting Group and Lairton Correa de Souza, HR Manager at Petrobras will discuss "Strategic Workforce Planning for Large National Oil Company in LatAm". The Boston Consulting Group is the Associate Sponsor for this conference while Priority Pass is the Lunch Sponsor , Swift and Adam are the Visiting Partners.
The conference covers all the major HR challenges being faced by the region's energy industry and provides a platform for the delegates to interact and learn from industry peers.
Contact:
Apeksha Dhar
T:+971 46091570 | E:apeksha.dhar@fleminggulf.com
Featured Product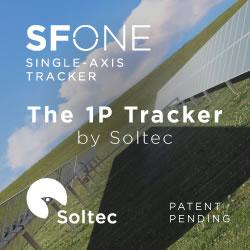 Soltec manufactures and supplies solar trackers designed and proven for extreme climate conditions, which is an ideal solution for any region's environment. Soltec's trackers are self-powered, requiring no additional PV module or grid-powered connection. Bifacial modules collect energy on both the front and rear sides, capturing reflected irradiance from the ground surface under and around the tracker and from other modules. Depending on site conditions, bifacial yield-gain can reach +30 percent.