Demonstration Partnership project is an 18-month pilot program created by San José to take innovations and smart product ideas and plug them into networks and places.
San Jose, CA September 23, 2015

Cheaper and more reliable energy through stored renewable solar power has come to the Gardner Community Center in San José as a result of an innovative Demonstration Partnership Program between the City of San José, JuiceBox Energy, Inc., and Prospect Silicon Valley.
"This Demonstration Partnership project is an 18-month pilot program created by San José to take innovations and smart product ideas and plug them into networks and places where cutting-edge technologies are tested and developed for market," said Teri Killgore, Civic Innovation Manager for the City of San José. "JuiceBox is the first of five projects that will roll-out under the Citys innovation initiative and aligns with Mayor Sam Liccardos SmartCity focus."
JuiceBox Energy installed an energy storage system at the community center that connects with the centers rooftop solar panels. It reduces Gardners electric bills by storing excess solar energy generated during the day that is used later in the evening when higher peak energy rates are in effect.
The JuiceBox system also provides a reliable source of clean, renewable backup power in the event of a grid outage, which helps secure a practical location where local residents can gather for news, support, and emergency services if necessary.
"Were thrilled to support the Gardner Community Center and the residents of San José who depend on this center for both daily and emergency usage," said Neil Maguire, CEO of JuiceBox Energy. "Through the Citys innovative Demonstration Partnership Program, San José has taken an important step forward in establishing a green, resilient grid and demonstrates that JuiceBox Energy Storage is an excellent choice for a safe, reliable and powerful energy storage system."
The company manufactures an 8.6 kWh lithium-ion energy storage system, and it is installing systems through a nationwide network of solar installers that are bringing the advanced web-connected system to residential and small commercial buildings. The system is capable of remote monitoring and control, and it can participate in grid services such as utility demand response and frequency regulation programs for a stable, reliable grid.
JuiceBox Energy started in the TechShop in San José, which also offers a place for community members to learn a wide range of practical skills such as woodworking, welding, soldering, and electronics. Prospect Silicon Valley supported the project, which is located at the San José Environmental Innovation Center. Prospect Silicon Valley opened in October 2014 to support and demonstrate the development of innovative technologies and products.
"Were proud to partner with JuiceBox Energy to increase our renewable energy capabilities and at the same time support a local technology company that is creating clean tech jobs here in Silicon Valley," said Chris Burton, Senior Business Development Manager for the San José Office of Economic Development. "JuiceBox is leading the way to a greener, sustainable future while showing their commitment to our community today."
The Gardner Community Center, a facility owned by the San José Department of Parks, Recreation and Neighborhood Services, is located at 520 West Virginia Street in San José. It is home to community services including an active senior program and a Boys and Girls Club.
About JuiceBox Energy, Inc.
Founded in 2013, JuiceBox Energy is committed to providing safe, reliable, intelligent and connected energy storage systems for renewable energy. JuiceBox systems are designed to support consumer self-consumption and enable a resilient, renewable energy grid in order to power a cleaner, sustainable planet. For more information, visit http://www.juiceboxsolar.com and follow us on Twitter: @juiceboxsolar.
About San José Office of Economic Development
The San José Office of Economic Development (OED) is committed to a vital, competitive local economy that increases prosperity for people and companies. OED guides economic strategy, provides assistance for business success, connects employers with trained workers, and provides arts and cultural resources to our community. For more information, visit http://www.sjeconomy.com and follow us on Twitter: @sjeconomy, #sjplace.
About Prospect Silicon Valley
Prospect Silicon Valley (ProspectSV) is a non-profit commercialization catalyst assisting emerging technology companies with a pathway to market, bringing high-impact solutions forward in the Bay Area. ProspectSVs team of highly qualified technical and market experts assist startups with a suite of commercialization services, and collaborates with Bay Area cities to implement next generation technologies for our commutes, workplaces, homes, environment and overall quality of life. Drawing together government, business and institutional leadership into collaborative partnership, the ProspectSV team develops local initiatives with an aim toward global impact. To learn more visit http://www.prospectsv.org.
About the City of San José
Known as the Capital of Silicon Valley, San José is the nations tenth largest city, and the largest city in Northern California, with an ethnically diverse population of more than one million. San José was founded in 1777, once served as the state capital of California, and now encompasses 180 square miles. The Citys website is http://www.sanjoseca.gov.
Featured Product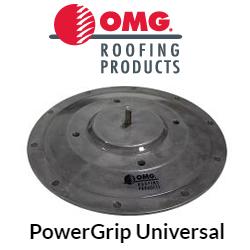 Eliminate Solar Rack Ballast and Reduce Rooftop Material Handling. PowerGrip™ Universal (PGU) is a commercial roof mount system designed to secure solar racks and other equipment to any type of commercial roofing system. PGU provides a secure connection directly to the roof deck or structural members and is designed to reduce or eliminate ballast in solar racking systems, so there's less weight on the roof and less material handling. Made of heavy-duty cast aluminum, PGU units include a base ring which is secured through the roofing cover and into the structural roof deck, and a waterproof top plate.