A mini battery pack powerful enough to jump start a car up to 10 times before needing to be recharged. Also recharges computers, mobile devices, etc via USB port.
Everybody has been in the uncomfortable situation of asking a stranger to help jump start a car. Never be in that predicament again!

The PowerPAK10 is a mini battery pack that has multiple purpose functions; from charging computer devices via USB or starting a car or boat. The PowerPAK10 features a 10,000mah battery, USB port, and LED light. The unit can be charged via wall outlet, car adapter, or solar panel.
This mini power pack is small enough to store in the glove-compartment, purse, or even your back pocket but powerful enough to start a car or marine motor. The lightweight but powerful LiPo polymer battery provides maximum power that evenly discharges and will quickly recharge via multiple adapters. (wall, car-adapter, or solar panel.) Simple to use interface with lighted power status bar display and built-in LED for added functionality.
Product Features:
-10,000mah high-efficiency LiPo polymer battery for stable discharge
-Barrel charger port input
-USB and Automotive connectors for output
-Extreme lightweight with fast recharge
-Built-in LED (1W) with emergency function
-The PowerPAK10 by PowerSPOT; your source for pocket power at an affordable price.
Featured Product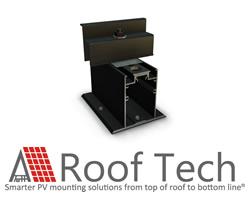 The most compact versatile rail-less PV mounting system under the sun. Instead of placing solar panels on top of long rails, simply attach E Mount AIR to rafters or the roof decking. Once panels are fastened to the roof, the system array is electrically bonded. The result is a visually seamless PV installation that stands the test of time. - Truly "One With The Roof". - PE stamped cert. letters available, UL 2703 Classified, ASTM 2140 fully waterproof. The one and only with integrated flexible flashing certified by the ICC! All the best quality. Only from Roof Tech