September 29, 2015 Solar Energy World CEO, Geoff Mirkin and Senior Solar Analyst, Jack Bolel were on hand to watch as DC Mayor Muriel Bowser cut the ribbon that officially opened 17 Solar, a state-of-the-art residential development project.
The 18 unique condominiums near the H Street corridor combine traditional community living with cutting-edge design. In addition to integrated highly proficient roof-mount solar panels provided and installed by Solar Energy World, the sleek modern homes have more insulation and glass facades than typical homes for improved energy-efficiency.

Andy Botticello, president of District Development Group (DDG), whose mission is to develop financially viable housing facilities that enrich the local community, says the project deliberately incorporated "modern materials including a lot of glass and the sloped roof to reflect the fact that the homes feature solar collectors oriented towards the south." The two-story condominiums each come with a full PV (photovoltaic) system designed to supply usable electric power by using the sun as the power source. "Depending on energy usage, they will provide approximately 20 percent to 30 percent of the energy used."
http://elevationdcmedia.com/devnews/Constructionon17Solar_residences_near_Hst_091813.aspx
"We'd like to thank both DDG and the City of Washington DC for this opportunity to be the selected solar contactor in this important development. With the lower cost of the solar components, the federal tax credits and tax incentives available to DC residents, we were able to provide significant savings to the end user." - Geoff Mirkin, CEO Solar Energy World
---------------------------------------------------------------------------------------------------------------------------------------------------------------------------------------------------
Headquartered in Elkridge Maryland, Solar Energy World is a leading provider and installer of solar electric systems for residential and commercial property owners in the Maryland - DC area. With over 1,500 solar installations since the company's founding in 2009, Solar Energy World is the fastest growing, independently-owned and operated solar company in the region.
Featured Product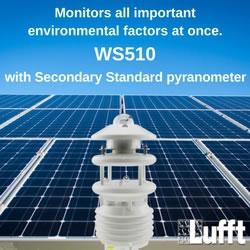 Professional weather sensors form the heart of large solar plants supporting their operation and performance. Lufft was the first manufacturer to combine several sensors in one housing, bringing the largest multiparameter weather sensor family with 19 members into being. Many of them are well-suited for solar site assessment and continuous monitoring. The most commonly used one is the WS600 delivering data on temperature, air pressure, wind, relative humidity and precipitation. Through its open protocol, it can easily be attached to radiation sensors e.g. from Kipp&Zonen. Other models have an integrated Silicon, Second Class or Secondary Standard radiation sensor.