Selected as one of four panel participants for the 2015 Southern Solar Summit, MBS leader provides expert input on optimizing solar energy through proper O&M management
Miller Bros. Solar (MBS), a chosen leader in operations and maintenance (O&M) solutions, is pleased to announce its Director and Managing Partner, Ryan Hoffman, was selected to participate on the 2015 Southern Solar Summit panel discussion regarding 'Solar O&M: Keys to Asset Optimization.

This years 7th Annual Southern Solar Summit was held in the GTRI Conference Center in Atlanta, Georgia in September. The Summit offered a day packed with the latest in information and insight on the dynamic solar market in the Southeast and beyond.
The Summits agenda opened with Keynote Speaker from the United States Army, Major General Al Aycock spoke on Army Energy Initiatives with Civilian Counterparts. Maj. Gen. Aycock has overseen the Armys investment in solar energy, including Georgias 3 X 30 program, which is building 30 MW of solar energy each at Georgias Ft. Benning, Ft. Gordon and Ft. Stewart.
Following the morning keynote, panel discussions and presentations continued throughout the day with topics, such as:
When Will the Solar Free-Market Financing Act Benefit Solar in Georgia?
Solar O&M Keys to Asset Optimization
How "Not" to Leave Money on the Table
Do We Need Solar PV Now?
Building Value for the Long Run: How to Structure Your Project for Resale Success
Battery/Storage - Lifting the Limits: Whats in Store for Storage
"This event was an excellent opportunity offering networking opportunities, and innovative, engaging panel sessions that provided a unique mix of market intelligence and coordination among some of this countrys top solar providers," said Ryan Hoffman, Director and Managing Partner for Miller Bros. Solar.
Miller Bros. Solar (MBS) is a chosen leader in solar operations and maintenance (O&M) with over 350 MWs currently under management. Miller Bros. Solar provides a wide range of services, daily monitoring, preventative maintenance, corrective maintenance, independent engineering reviews, independent commissioning, construction oversight and most important - emergency response.
MBS is one of the few electrical contractors that can simultaneously self-perform multiple utility scale solar projects while exceeding client expectations, controlling costs and adhering to timelines and customer schedules.
The company has a wide geographic footprint providing solar O&M services in the following states: Connecticut, Delaware, Ohio, Georgia, Indiana, Maryland, Massachusetts, New Hampshire, New Jersey, New York, North Carolina, Pennsylvania, Rhode Island, South Carolina, and Vermont.
For more information about Miller Bros. Solar O&M Services, visit http://millerbrossolar.com or call Ryan Hoffman at 610-832-1000.
Featured Product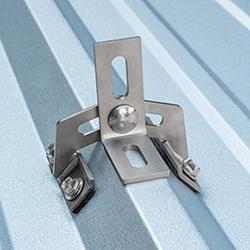 They have been changing the game for 10 years with their original Top Mount line for Asphalt Shingle roofs, and by now supplying one of the widest ranges of solar mounts in North America. From their patented products, to the custom production services they offer, QuickBOLT has been working with solar installers for nearly a decade to make solar installations easier than ever before.