CTS plant located in Vidalia, Georgia
WEST PALM BEACH, Fla., Oct. 20, 2015 -- Alliance BioEnergy Plus, Inc. (OTCQB:ALLM) (the "Company"), announced today that its' licensee RRDA has secured the site for what will be the inaugural commercial CTS plant located in Vidalia, Georgia. With the support of the surrounding farmers, community and local government this plant will process up to 1,000 metric tons a day of mixed feedstock, create more than 100 local jobs and inject millions of dollars into the local economy.

RRDA is working with local farmers to process sweet onion and pine tree agricultural waste as well as paper mill process waste into fermentable sugars, usable to manufacture fine chemical products, to be sold through an off-take agreement already in place.
RRDA entered into a letter of intent to purchase the property last Friday October 16, and will complete the purchase contract immediately. RRDA has kept city and county officials informed of progress, presenting for the second time in as many months, along with Alliance BioEnergy Plus CEO Daniel de Liege, in front of the Toombs County Development Authority at their monthly meeting last Thursday October 15th. The site, ideally located on a rail line and near agricultural processing facilities, will be included in the Company's FEL 3 engineering efforts, beginning in early November. With all of the key elements in place (land, feedstock, and off take agreements) RRDA will begin closing on its licensing and construction funding and anticipates breaking ground in Q1 2016 with a grand opening of this first plant slated for mid summer 2016.
About RRDA:
Renewable Resources Development of America, LLC is a private Delaware Limited Liability Company with extensive background in management of material reuse and recycling. The RRDA team has international expertise in operations, management, construction efficiencies, training and quality controls. Applying this experience to the development and operations use of emerging "green" technologies. RRDA will use Alliance's CTS technology to supply multiple industrial customers with a reliable raw material supply. The customer will be located in North, Central, South America and the Caribbean.
About ALLM:
Alliance BioEnergy +, Inc. ("ALLM") (OTCQB:ALLM), is a publicly traded company focusing on "Green" energy and renewable technologies. ALLM's subsidiaries focus on emerging technologies in the renewable energy, bio-fuels and new technologies sectors. ALLM owns a fifty percent interest in Carbolosic, LLC, and the exclusive rights to North America (including Canada, U.S. and Mexico) and Africa. Carbolosic holds the exclusive, worldwide license to the patented mechanical/chemical technology, "CTS™" developed by the University of Central Florida. The CTS technology is able to produce Sugars, for production of Various Fine Chemicals, Plastics, Carbon Fibers and other valuable products from virtually any plant material, wood or paper by product, fruit casings or bio waste.
Featured Product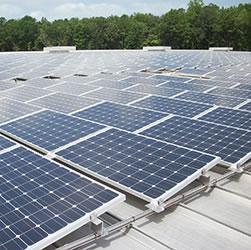 The Power Rail™ Commercial Mounting System is designed with the professional PV solar installer in mind. Both the XD/UD and LD/MD rails feature single tool assembly with the revolutionary patented RAD™ Lock-in-Place bolt for fast and secure module clamping. The high strength marine-grade aluminum rails include an integral wiring channel for securing cables and providing a professional finish.