Sam Jackson to share insights on risk mitigation and cost reduction utilizing energy crops
VONORE, Tenn. October 20, 2015 - Sam Jackson, vice president of business development for Genera Energy, a recognized leader in biomass feedstock innovation and supply chain advancements, will be a featured speaker at the 2015 National Advanced Biofuels Conference October 26-28 in Omaha, Nebraska. Jackson will draw on his experience in feedstock production and feedstock supply chain management for his presentation on risk mitigation and cost reduction utilizing energy crops.

The fifth annual conference highlights advances in biofuels and biobased chemicals with a core focus on the industrial, petroleum and agribusiness alliances defining the national advanced biofuels industry. The format is tailored for industry professionals engaged in producing, developing and deploying advanced biofuels, biobased platform chemicals, polymers and other renewable molecules that have the potential to meet or exceed the performance of petroleum-derived products.
"I look forward to this opportunity to demonstrate how Genera is leading the way in biomass feedstock supply chain innovations that provide benefit to the bioenergy industry," said Jackson. "The National Advanced Biofuels Conference is a great opportunity for Genera to both share the exciting advancements and improvements in energy crop production and management we've developed over the last year, as well as network with other advanced biofuels professionals from around the country."
The conference will also include speakers, panels and showcases featuring:
* Petroleum industry perspectives on advanced biofuels
* Converting existing industrial assets into next-generation biofuels
* Forging symbiotic agribusiness alliances
* Aviation and military industry positions on biobased jet fuel
* Venture capital and private equity viewpoints
* Overcoming barriers to market entry
* The national market outlook for biobased fuels and chemicals
* Exceeding the performance of petroleum-based products
For more information about Genera Energy, visit generaenergy.com, and for more information about the 2015 National Advanced Biofuels Conference, visit www.advancedbiofuelsconference.com.
About Genera Energy, Inc.
Genera Energy Inc. supplies biomass feedstocks for the advanced bio-based industries, offering scalable industrial scale agriculture biomass supply solutions ranging from full service energy crop production to customizable supply chain solutions and managing biomass supply. Genera's proprietary Supply ASSURE® feedstock management system and its BIN-SPEC® material handling and milling system offer Genera's customers maximum feedstock reliability and quality while minimizing variability and cost. Based in Vonore, Tenn., Genera operates the country's largest and most comprehensive industrial biomass management and processing facility. Focus on innovation and sustainability in delivering industrial biomass supply systems has earned Genera the World's Biofuels Market's prestigious 2013 Sustainable Feedstock Innovation Award. For more information, visit http://www.generaenergy.com.
Featured Product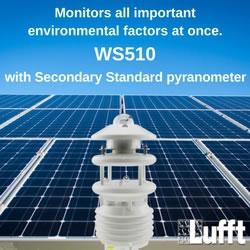 Professional weather sensors form the heart of large solar plants supporting their operation and performance. Lufft was the first manufacturer to combine several sensors in one housing, bringing the largest multiparameter weather sensor family with 19 members into being. Many of them are well-suited for solar site assessment and continuous monitoring. The most commonly used one is the WS600 delivering data on temperature, air pressure, wind, relative humidity and precipitation. Through its open protocol, it can easily be attached to radiation sensors e.g. from Kipp&Zonen. Other models have an integrated Silicon, Second Class or Secondary Standard radiation sensor.