Project is first of three to be built by First Solar for regional power utility
MPE, Ariz.--First Solar, Inc. (NASDAQ: FSLR) joined Indiana Michigan Power (I&M) yesterday at a groundbreaking ceremony for the Twin Branch Solar Facility in Mishawaka, Indiana. The 2.6 megawatt (MW) project is the first of three First Solar is building for I&M, an operating unit of regional power utility American Electric Power (NYSE: AEP).

"I&M is pleased to partner with First Solar in bringing emission-free, large-scale solar generation to Michiana," said Paul Chodak III, President and Chief Operating Officer of Indiana Michigan Power. "I&M and First Solar will be building cost-effective, efficient facilities that will serve customers well by further diversifying I&Ms generation with zero carbon footprint."
"It is exciting to be working directly with one of the largest vertically integrated utilities in the U.S.," said Eran Mahrer, First Solars Senior Director of Business Development - Utilities. "AEP is aggressively developing a fleet of renewable energy generation facilities in the region, and their commitment to solar power as a cornerstone of that renewable portfolio is at the forefront of a national trend."
Mahrer noted that Twin Branchs site location - approximately 19 acres in the heart of an industrial park - shows how utility-scale solar can be integrated into an urban commercial setting.
In addition to Twin Branch, First Solar will be building the 5MW Olive Solar Facility in New Carlisle, Indiana and the 4.6MW Watervliet Solar Facility in Watervliet, Indiana for I&M, all using First Solars advanced technology thin film photovoltaic modules. The three projects are expected to be in full commercial operation by the end of 2016, and will be connected to I&Ms existing distribution system.
First Solar will be working with trusted strategic partner GEM Energy of Walbridge, Ohio, as the engineering, procurement and construction (EPC) contractor for Twin Branch. When commissioned, the power plant will generate enough energy annually to power the equivalent of 350 homes. I&M will own and operate the power plant, supported by system monitoring software provided by First Solar subsidiary skytron® energy GmbH.
About First Solar, Inc.
First Solar is a leading global provider of comprehensive photovoltaic (PV) solar systems which use its advanced module and system technology. The companys integrated power plant solutions deliver an economically attractive alternative to fossil-fuel electricity generation today. From raw material sourcing through end-of-life module recycling, First Solars renewable energy systems protect and enhance the environment.
About Indiana Michigan Power and American Electric Power
Indiana Michigan Power (I&M) is headquartered in Fort Wayne, and its 2,450 employees serve more than 589,000 customers. It operates 2,600 MW of coal-fired generation in Indiana, 2,160 MW of nuclear generation in Michigan and 22 MW of hydro generation in both states. The company also provides its customers 450 MW of purchased wind generation and, by the end of 2016, approximately 15 MW of large-scale solar generation.
American Electric Power (AEP) is one of the largest electric utilities in the United States, delivering electricity to more than 5.3 million customers in 11 states. AEP ranks among the nations largest generators of electricity, owning nearly 32,000 megawatts of generating capacity in the U.S. AEP also owns the nations largest electricity transmission system, a 40,000-mile network that includes more 765-kilovolt extra-high voltage transmission lines than all other U.S. transmission systems combined. AEPs transmission system directly or indirectly serves about 10 percent of the electricity demand in the Eastern Interconnection, the interconnected transmission system that covers 38 eastern and central U.S. states and eastern Canada, and approximately 11 percent of the electricity demand in ERCOT, the transmission system that covers much of Texas. AEPs utility units operate as AEP Ohio, AEP Texas, Appalachian Power (in Virginia and West Virginia), AEP Appalachian Power (in Tennessee), Indiana Michigan Power, Kentucky Power, Public Service Company of Oklahoma, and Southwestern Electric Power Company (in Arkansas, Louisiana and east Texas). AEPs headquarters are in Columbus, Ohio.
About GEM Energy
GEM Energy offers a wide array of services to help customers increase their energy efficiency, sustainability and energy savings. GEM Energys comprehensive energy services and technologies include solar development, integration of power generation, advanced heating and cooling systems, procurement and FlexSet energy monitoring/building control systems for commercial, industrial, institutional and mission-critical facilities. GEM Energy is part of the Rudolph Libbe Group, which also includes Rudolph Libbe Inc., GEM Inc., Lehman Daman and Rudolph Libbe Properties. A full-service team of companies, the Rudolph Libbe Group provides customized building solutions together and independently. The Rudolph Libbe Group is a single source of comprehensive construction services ranging from site selection and financing, through all aspects of construction to ongoing maintenance.
Featured Product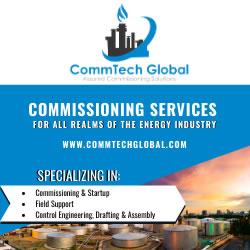 CommTech Global Solutions, LLC, provides professional and reliable commissioning services to customers in all realms of the energy industry. We blend our skills in engineering and technology with innovative business models, offering a complete range of services to assist you for a successful and in compliance operational startup. Consolidation of all our service domains gives our clients a comprehensive set of expertise and far-reaching experience on each project.