"Oldbaum Services is at the forefront of the wind sector in reducing the cost of energy by combining our industry-leading skills and experience in wind resource assessment"
Oldbaum Services, one of the worlds leading wind consultancies, announced today that it has deployed two 3D WINDCUBE 400S Scanning LiDARs as part of the wind resource assessment campaigns the company is currently conducting at two French offshore wind sites. It is the first time that such long range scanning systems are deployed for operational campaigns, after having successfully completed third party validation tests with DTU and DNV GL. Oldbaums work will contribute significantly to making best use of the wind resource available at both locations to reduce the costs associated with offshore wind development.

Oldbaum provides wind data interpretation and consultancy services that efficiently complement Leospheres scanning LiDAR, allowing Oldbaum to design and implement cost effective wind resource assessment campaigns to establish the offshore wind regime from onshore for future wind farms as well as optimise their layout design. The instrumentation Oldbaum selected for the job includes the 3D WINDCUBE 400S Scanning LiDAR from Leosphere, which is able to scan hemispherically up to a distance of 10 km. It scans the wind out to sea, providing Oldbaum with a comprehensive picture of the wind resource available at both sites, returning data using low risk cost effective measurements. The reconstruction of the wind was based on Leospheres in-house algorithm recently validated by DNV GL.
"Oldbaum Services is at the forefront of the wind sector in reducing the cost of energy by combining our industry-leading skills and experience in wind resource assessment, with innovative products such as Leospheres scanning LiDAR. Oldbaum Services and Leosphere have been working together as solid partners for many years, and Oldbaum Services has an excellent track record of utilising Leospheres Lidar Instrumentation to deliver successful wind energy projects all over Europe," explained Oldbaums Technical Director Andy Oldroyd.
Prior to deployment, the 3D WINDCUBE Scanning LiDAR was field-tested and validated by DNV GL on the Janneby test site in Germany. It is the first long range scanning LiDAR to be third-party validated. The results from DNV GL show that the WINDCUBE scanning LiDAR significantly reduces P90 AEP uncertainty and meets the high standards set by the wind energy community, such as correlations of 98% between met-mast and scanning device at long ranges, and mean speed errors inferior to 0.5m/s.
Leospheres CEO Alexandre Sauvage commented: "This deployment for one of Frances major wind power project is a further proof of our systems performance for offshore wind applications that our long-standing partner Oldbaum can use effectively to conduct very reliable wind data interpretation and consultancy work. Our work in France further underpins the maturity and acceptance of our technology for operational use and confirms LEOSPHEREs leading position in LiDAR technology. We deliver reliable systems that operate with minimal maintenance and downtime. With this proof-of-concept, the 3D WINDCUBE 400S is set to become the reference tool for long range wind resource assessment scanning offshore from the shore."
Featured Product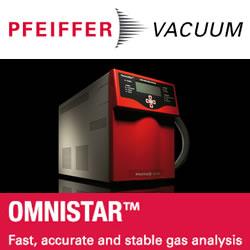 The Pfeiffer Vacuum OmniStar benchtop analysis system offers you a compact footprint, powerful software and Ethernet connectivity. It's the optimum solution for many real-time gas analysis applications. With the OmniStar, Pfeiffer Vacuum offers you a complete solution for gas analysis, in chemical processes, semiconductor industry, metallurgy, fermentation, catalysis, laser technology and environmental analysis. The turnkey OmniStar gas analysis system consists of heated, temperature-regulated gas inlet system, Quadrupole mass spectrometer, a dry diaphragm vacuum pump and HiPace turbopump. Unlike competing methods such as FTIR, OmniStar is suitable for qualitative and quantitative analysis of most gases.