In September Turboden agreed on a contract with MB Holding, one of the largest Turkish Geothermal developers. The new 16.5 MWe power plant features state-of-the-art technical solutions for geothermal power plants, maximizing the project return.
Turkish firm MB Holding will build Croatias first geothermal power plant, a 16.5 MW ORC solution based on a single axial multi-stage ORC turbine designed by Turboden, a group company of Mitsubishi Heavy Industries (MHI), leader in Organic Rankine Cycle (ORC) turbogenerators production for distributed power generation from renewable sources and waste heat.

After winning a bid in January 2015, MB Holding holds the permit to construct the countrys first geothermal plant. The company was founded in 1968 in the southeast of Turkey, and operates in many fields including energy, building construction, agriculture and textiles industries. One of the major goals of the company is to produce clean electricity from geothermal energy, which has been demonstrated by MB Holding with the first private geothermal energy plant in operation in Turkey since 2006. Currently MB Holdings portfolio consists of 3 other geothermal power plants.
"Croatias 35 percent of electricity will be provided by renewable sources after 2020" - said Muharrem Balat, chairman of MB Holding -. "We have selected Turboden among the possible suppliers because they will provide 10% higher revenues by means of optimized solution for our project, together with the reliability of the brand".
The plant will be completed and fully functional within the end of 2016, generating electric power from a medium enthalpy geothermal source. Turboden will be responsible for the Engineering, Procurement and Construction of the equipment.
Thanks to Turbodens 35 years of experience in ORC turbogenerator design, Turboden is providing the best-optimized configuration for the specific geothermal resource in order to maximize the return of the project. The Turboden geothermal module running on proprietary design axial multi-stage turbine grants outstanding efficiency and availability, allowing the highest benefits for the customer.
"Together with Mitsubishi, we are now focused in offering competitive and winning solutions optimized for larger scale geothermal projects. We are proud that MB Holding selected us to develop together a fully optimized solution for their first project in Croatia. We are confident that, also in this market, we will achieve our goals and further projects will be awarded" - said Paolo Bertuzzi, CEO of Turboden.
Turbodens geothermal fleet in operation and under construction currently accounts for 13 plants (85 MW), located in Turkey, Europe, The Philippines and Japan.
Overall Turboden has more than 300 ORC plants worldwide (ranging from Australia to Canada) of which 260 are already operational with a capacity installed of 340 MW (further 160 MW are under construction), with an estimated cumulated working time of more than 7 million hours.
Turboden, a Mitsubishi Heavy Industries company, is an Italian company and a global leader in the design, manufacture, and service of Organic Rankine Cycle (ORC) turbogenerators, which harness heat to generate electric and thermal power from renewable sources, including biomass, geothermal and solar energy and waste heat from industrial processes, waste incinerators, engines or gas turbines. Turboden has more than 300 plants in 33 countries and offers turbogenerators from 200 kWe to 40 MWe. www.turboden.com
Featured Product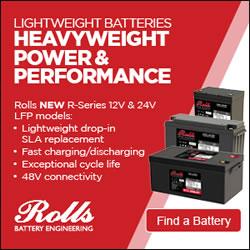 Designed for true drop-in replacement, Rolls new R-Series 12V & 24V LFP lithium models offer a maintenance-free lightweight flooded and SLA alternative in four popular BCI case sizes with fast charge/discharge capability. Rolls custom built-in BMS provides all necessary operating protections for safe operation and seamless integration for deep cycle replacement in 12V, 24V or 48V systems.