Innowatt24 review on a good year and new partnerships with I-24 Renewables. Most of all I24 is starting own developments in US and sold already a couple of Solar Farms. Innowatt24 is now under the Top 70 in North America.
After the last years, working only on Engineering and Design for Solar Farms the Innowatt24 Energy Group goes the next step into the future. Since February, 2015, Innowatt24 is working with a Capital Group and Management Group together and formed the I-24 Renewables Division under the umbrella of Innowatt24 Energy Group.

Since that business is grow, I-24 Renewables will be placed in a own company. Sascha Marco Wallantin, Chief Executive Officer of Innowatt24 Energy Group says: "I'm proud to be a part of this company called I-24 Renewables. That partnership represent a new level of Solar Investments for US. An Engineering and Construction Company, a Financial and Investment Company and a Management and Operation Company to form an ultimate solar investment package for tax investors and owners in all states. I'm proud to announce finally Innowatt24 is since 2015 under the Top 70 Solar Industry Companies in North America."
The Innowatt24 is now facing 2016 around 50 MW+ and will grow on the market.
Featured Product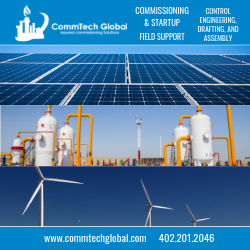 CommTech Global Solutions, LLC, provides professional and reliable commissioning services to customers in all realms of the energy industry. We blend our skills in engineering and technology with innovative business models, offering a complete range of services to assist you for a successful and in compliance operational startup. Consolidation of all our service domains gives our clients a comprehensive set of expertise and far-reaching experience on each project.