· Wind-diesel hybrid power system, Arctic Circle at Kotzebue, Alaska. · Intensium Max+ 20M containerized Battery Energy Storage System with "Cold Temperature Package". · Expanding marketplace serving remote communities and microgrids in cold-temperature regions. · Delivery to Kotzebue Electric Association Inc. (KEA) during Q3 2015.
Paris, November 9, 2015 - Saft, the worlds leading designer and manufacturer of high-tech industrial batteries, has delivered its Intensium Max+ 20M containerized Battery Energy Storage System (BESS) with innovative "Cold Temperature Package" on schedule during Q3 2015, to Kotzebue Electric Association Inc. (KEA), an electric cooperative based in Kotzebue, Alaska.

The system will allow the existing hybrid wind-diesel power system to achieve its full potential, providing cleaner, more reliable and less expensive power to Kotzebue, located above the Arctic Circle in Alaskas Northwest Arctic Borough (an area the size of Illinois). Kotzebue is not connected to an electrical transmission grid or to any road system, and has historically been dependent on diesel powered generators for electricity. The annual average temperature is 22°F and area residents face some of the highest costs for energy anywhere in the nation.
"Incorporating the Saft Intensium® Max+ 20M battery will allow better utilization of our wind system," said KEA General Manager and CEO Brad Reeve. "Battery storage is an additional tool we need to increase our cooperative's efficiency and reduce our diesel dependence."
The Saft BESS provides state-of-the-art battery storage technology designed for extreme cold environments. It is the first container system of its kind in North America to utilize the Intensium Max+ 20M product platform. In addition to the Intensium Max+ 20M battery container, which provides 950kWh and has the ability to operate in environments reaching ambient temperatures of -58°F, the delivered BESS also includes a 1.2MW EssPro Power Conversion System and grid connect transformer, supplied by ABB. The key benefits to the KEA microgrid will be the ability to ride through fluctuations in wind output and to time-shift excess wind energy, providing significant reductions in diesel consumption.
This is Safts second project for a remote community above the Arctic Circle. Alaska and other cold temperature regions, where fuel transportation and electricity costs are high, represent a rapidly expanding marketplace for specially-designed battery energy storage systems serving microgrids and other hybrid power systems.
"Saft has emerged as a leader in serving the energy storage needs of power networks where extreme temperatures require innovative design and performance," said Blake Frye, Vice President of Sales and Energy Storage at Saft. "We are proud to be a trusted resource for KEA and other energy providers and co-ops in remote regions where our technology and expertise are required." N° 66-15 www.saftbatteries.com
While serving the energy needs of 980 members in the Kotzebue region and generating over 21 million kilowatt hours per year, KEA is committed to improving energy reliability and efficiency, and reducing operational costs. Several other remote villages in the region are being evaluated for Saft BESS installations similar to the one at Kotzebue.
About Saft
Saft (Euronext: Saft) is a world leading designer and manufacturer of advanced technology batteries for industry. The Group is the worlds leading manufacturer of nickel batteries and primary lithium batteries for the industrial infrastructure and processes, transportation, civil and military electronics markets. Saft is the world leader in space and defense batteries with its Li-ion technologies which are also deployed in the energy storage, transportation and telecommunication network markets. More than 4,000 employees in 18 countries, 14 manufacturing sites and an extensive sales network all contribute to accelerating the Groups growth for the future.
Saft batteries. Designed for industry. www.saftbatteries.com
Featured Product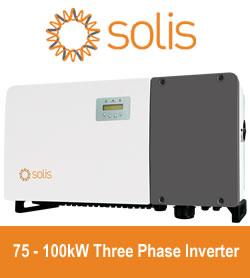 Solis75kW - 100kW series high-power string inverters are widely used in industrial and commercial rooftops. Solis's new three-phase string inverter is the first choice for industrial and commercial photovoltaics. 75-100kW three phase series string inverter have Maximum 28 strings input, support "Y" type connection in DC side. Maximum string input current 13A, support bifacial modules access.Supports anti-PID function to improve system efficiency.