Company Sees 400 Percent Record Growth in 2015
SALT LAKE CITY - Suncrest Solar, Inc., a leading, full-service provider of residential solar, has announced expansion of services to Northern California, South Carolina and Utah.

"We are a world-class solar provider in Southern California and are excited to provide the same services to these new markets," said John Corliss, president.
Suncrest's announcement follows several months of double-digit growth, expanding more than 400 percent since 2014.
"Our people are clearly energized by the mission of bringing homeowners a lower-cost electric service alternative with clean, renewable energy. Residential customers in these new markets are hungry for renewable energy, and we look forward to meeting the ready pool of qualified sales candidates in those locations," said Senior Vice President of Sales Josh Hatch.
The expansion will lead to the opening of up to nine offices in California and the new regions. Suncrest's ProAlliance partner program will be expanded into the new markets as well. The ProAlliance program is designed to help new and established sales-focused companies make an easy transition into the solar energy industry.
Suncrest is one of the few solar companies that not only designs, permits, sells and installs panels on the roofs of residential electric utility customers, but also owns, operates and maintains those systems throughout the entire contract period - providing important continuity of service to homeowners and a simpler, streamlined process for sales personnel.
To learn more about joining the Suncrest Solar team in Northern California, South Carolina or Utah, please contact Kim Donis at (385) 235-5202 or kdonis@suncrestsolar.com. Companies interested in becoming ProAlliance partners can get more information by contacting Nick Perry at (561) 214-3528 or nperry@suncrestsolar.com.
The primary shareholders of Suncrest are Tenaska and Sorenson Capital. Tenaska is consistently ranked by Forbes magazine as one of the largest privately held U.S. companies, with $12.2 billion in gross operating revenues in 2014. Sorenson Capital, a Utah-based middle-market private equity firm with more than $1 billion in assets under management, has been a primary investor since inception in 2013. In September, Suncrest closed its first tax equity fund, which enables nearly unlimited growth through 2016.
About Suncrest Solar, Inc.
Suncrest Solar (suncrestsolar.com) is a residential solar company dedicated to building a brighter future. Suncrest's business model is designed to bring clean, affordable energy to residents across the U.S. Suncrest has sales and installation locations in Inland Empire, Orange County, San Jose and San Diego, California. Engineering, design, permitting, accounting and administrative activities are performed at the company's hub in Salt Lake City.
Featured Product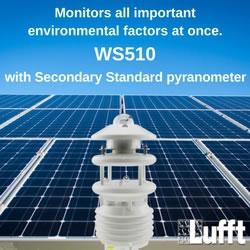 Professional weather sensors form the heart of large solar plants supporting their operation and performance. Lufft was the first manufacturer to combine several sensors in one housing, bringing the largest multiparameter weather sensor family with 19 members into being. Many of them are well-suited for solar site assessment and continuous monitoring. The most commonly used one is the WS600 delivering data on temperature, air pressure, wind, relative humidity and precipitation. Through its open protocol, it can easily be attached to radiation sensors e.g. from Kipp&Zonen. Other models have an integrated Silicon, Second Class or Secondary Standard radiation sensor.