The Department of Energy and Climate Change has this morning released the results of its latest opinion poll on public attitudes to energy.
The regular opinion poll found yet again that solar is the nation's favourite source of energy at 80%, higher than every other renewable or conventional energy technology.

The specific question about solar and other renewables is now only asked every 6 months as opposed to every 3 months, in a controversial decision taken earlier this year.
This also comes as last week a ComRes survey for the Energy and Climate Intelligence Unit (ECIU) showed that the British public backed subsidies for renewable energy sources (66% wind, 73% solar and 75% early stage renewables) and that support for renewables subsidies combined was at 83%.
Leonie Greene, Head of External Affairs at the Solar Trade Association said:
"These very high levels of public support for solar show yet again that this sunshine technology is the nation's favourite source of energy. This is also shown by the more than 55,000 responses to the Feed-in Tariff public consultation received by DECC - an unprecedented number showing the widespread outrage and these extreme cuts."
"No other technology empowers consumers and communities to take charge of their energy bill and act on climate change like solar power. By cutting support for solar the government is taking power away from people, organisations and communities all over the UK - and they don't like it one bit."
These positive polling results for solar are in stark contrast to recent policy proposals to cut the Feed-in Tariff for solar by up to 87% and to cut solar out of the Renewables Obligation entirely as well as taking away key guarantees within the scheme. Earlier in the summer the Government also removed incentives for solar panels on new build homes and commercial properties, and forced low carbon generators to bay the Climate Change Levy carbon tax.
The government is also putting more emphasis on shale gas and nuclear power, while making extreme cuts to renewables, despite the fact that only 23% of the public support shale gas and 36% support nuclear power. Only 1% of the public are strongly opposed to renewables.
Featured Product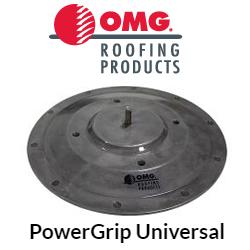 PowerGrip Plus Roof Mount System, a watertight structural attachment system used to secure ballasted solar racks and other equipment to roofs covered with thermoplastic (TPO and PVC) membranes. PowerGrip Plus is designed with wind performance in mind and offers ultimate tensile strength of 2,000 lbf. and ultimate shear strength of 1,075 lbf. Properly installed PowerGrip Plus units reduce rack movement and remaining watertight. PowerGrip Plus units are easy to install, saving both time and labor when compared to alternative options. A wide membrane skirt promotes easy welding in place, and the 15/8 diameter and 1/2 inch tall mount provides an optimal perch for securing brackets or struts. The exposed 1 inch tall and 3/8 inch diameter bolt and mounting stand are made from corrosion-resistant stainless steel and aluminum alloy for superior long-term performance.