AET's streamlined logistics team delivers entire racking solution for 7 MW project in one week
Mendota, Calif. - Applied Energy Technologies (AET), a preferred supplier of commercial and utility-scale racking systems and one of the top 10 solar racking companies in the United States, announces that it was selected by Swinerton Renewable Energy to provide its Rayport™-G ECO ground mount system for a 7 MW solar PV installation in Mendota, California, currently under construction.

AETs engineering team provided the full design, professional engineering stamp, and subsoil evaluation for permitting. AET boasts an impeccable record with 100 percent on time, 100 percent on budget and zero warranty claims. For this particular project, to meet the needs of the customer, AETs highly efficient logistics team shipped the entire racking solution for the 7 MW project in one week.
"Swinerton upholds a high level of standards for all of its projects," said Aaron Faust, VP of Business Development for AET. "To be selected by Swinerton requires an extensive vetting process to ensure the racking team fits the bill. There are many facets that go into a utility-scale solar project, such as shipping, engineering, service, quality product, and cost. AET is focused on meeting all of these needs for every customer."
A recent report from the U.S. Energy Information Administration (EIA) confirms the continued growth in utility-scale solar power generation. The U.S..EIA anticipates utility-scale solar capacity to increase by greater than 100 percent (11 GW) over a two-year period (2014-2016), with 4.4 GW of new solar power generation being constructed in California (Source: U.S. Energy Information Administration Short-Term Energy and Winter Fuels Outlook Oct 2015).
"There are a number of factors that are contemplated when selecting the components for our projects," said Scott Stites, Procurement Manager for Swinerton. "We continue to be pleased with the quality of AETs racking system, competitive price point, aggressive lead-times, and speed of installation. They have exceeded our expectations in expedited engineering deliverables, materials delivery, and responsive customer service."
AETs Rayport™-G ECO is strong and durable, having been engineered to withstand the most challenging environmental conditions. Its high-quality and low cost features, backed by AETs highly-efficient logistics makes AET a leading choice for EPCs and developers looking for a balance-of-system racking component that meets time and budget constraints while upholding quality and reliability for their utility-scale projects.
About Applied Energy Technologies (AET)
Applied Energy Technologies (AET), a leading provider of world-class solar mounting solutions, delivers top quality engineering, manufacturing and installation (EMI) services for bankable utility and commercial-scale solar projects. With an impeccable track record of more than 275 MW in completed projects, 100% on time delivery, 100% on budget, and zero warranty claims, AET meets the highest standards in product manufacturing, design and engineering, and installation required by some of the solar industrys foremost leaders. AET has more than 30 years of product development and engineering experience, and creates mounting solutions that stand up to harsh environmental conditions, meet tough budget constraints, and are fast and easy to install. For more information, visit: http://aetenergy.com.
About Swinerton Renewable Energy
Swinerton Renewable Energy offers engineering, procurement, construction, and SOLV® services for solar photovoltaic plants throughout North America to a diverse range of clients. Over 127 years of building landmark projects, Swinerton has forged a reputation for unsurpassed safety, workmanship, on-time delivery, and customer satisfaction. Today, the Swinerton team takes pride in building cost-effective solar systems that will generate reliable, clean power for many years to come. SRE has delivered over 650 MW solar projects and our SOLV team manages over 1 GW of PV plants. For more information on Swinerton Renewable Energy, visit its blog, Swinerton Builds Tomorrow and Twitter.
Featured Product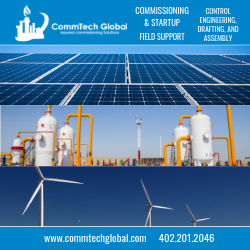 CommTech Global Solutions, LLC, provides professional and reliable commissioning services to customers in all realms of the energy industry. We blend our skills in engineering and technology with innovative business models, offering a complete range of services to assist you for a successful and in compliance operational startup. Consolidation of all our service domains gives our clients a comprehensive set of expertise and far-reaching experience on each project.